Deriving Optimal Customer Experiences for Product Loyalty
Delivering a positive customer interaction across the journey is now becoming the focus across life sciences functions, be it looking at the customer experience provided to healthcare practitioners (HCPs) or patients. It is now well understood that a customer-centric strategy is necessary to succeed.
What's been proven is that customer experiences directly impact the success of product launches and revenue in the pharma and biotech industries.1 Given the business impact, it is important to look at the benefits brought by a modern customer experience management (CXM) approach for optimal customer journeys by segment.
Managing a "Total Customer Experience": Challenges faced with the explosion of new channels
With the new generation of customers being digital and device obsessed, embracing the opportunity to connect through all convenient channels, life sciences companies should now be racing to deliver great experiences across each. However, the challenge lies in synchronizing the efforts across channels to retain the context of the customer as they traverse their journeys. Even though each touchpoint is now being optimized, the overall customer satisfaction is dipping as the industry struggles to properly manage and connect the complex maze of offline and online interactions.2
The reason it is so challenging is that customer-facing teams and systems need to keep the overall needs of the customer in mind while fulfilling the purpose of each interaction. In other words, it is important to consider the root cause of any issue raised, all previous preferences provided by the customer, as well as other ways to ensure the customer journey continues seamlessly.
'Best-in-class companies across industries are working to improve customer experiences, and they are finding they have the greatest impact when focusing on end-to-end customer journeys, rather than individual touchpoints.'
'A recent McKinsey cross-industry customer survey conducted in the United States demonstrates a strong correlation between overall customer satisfaction and revenue growth in a range of sectors from hotels to electric utilities. Yet the concept of customer journeys has yet to be widely adopted in the pharma industry.'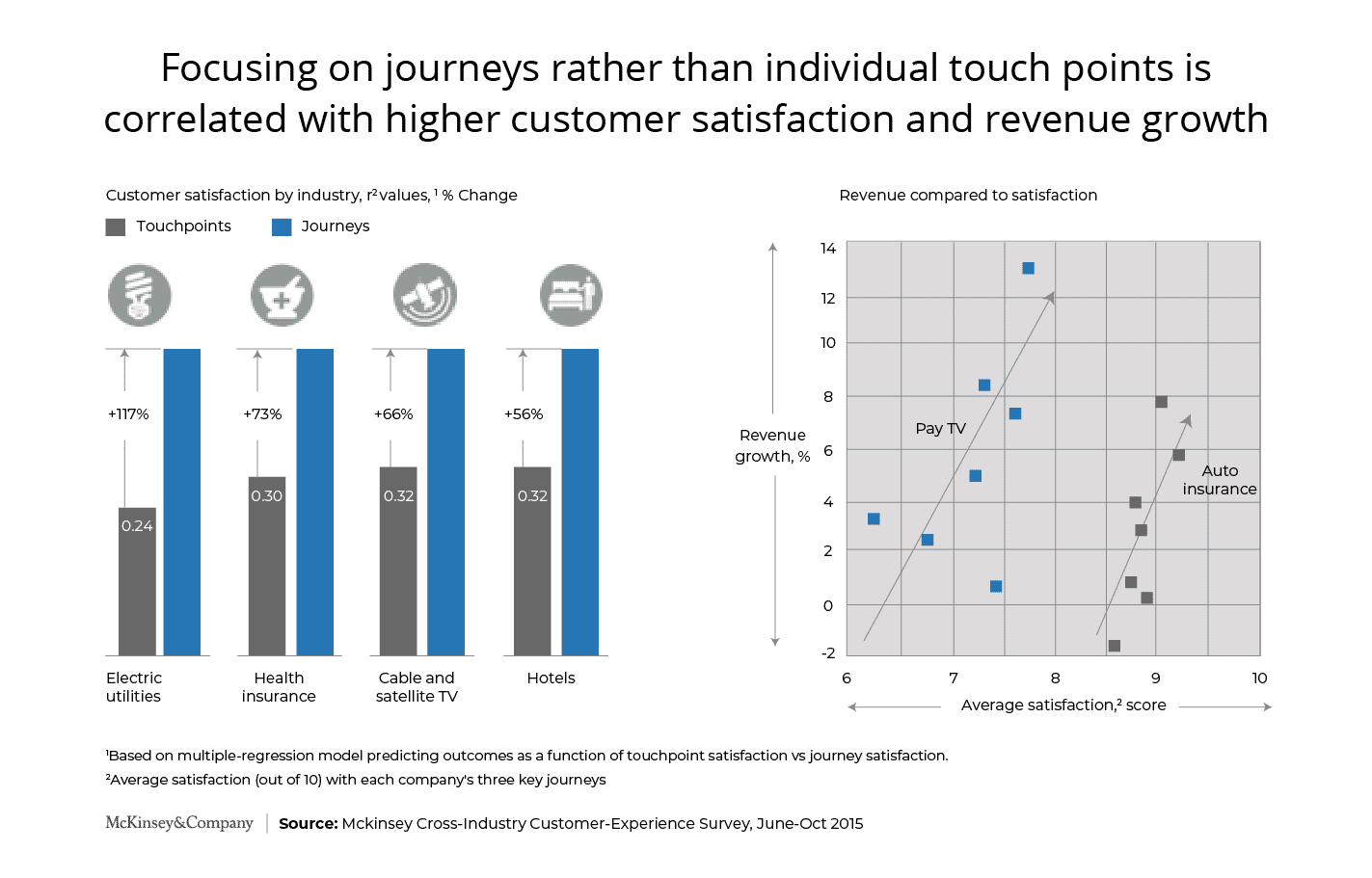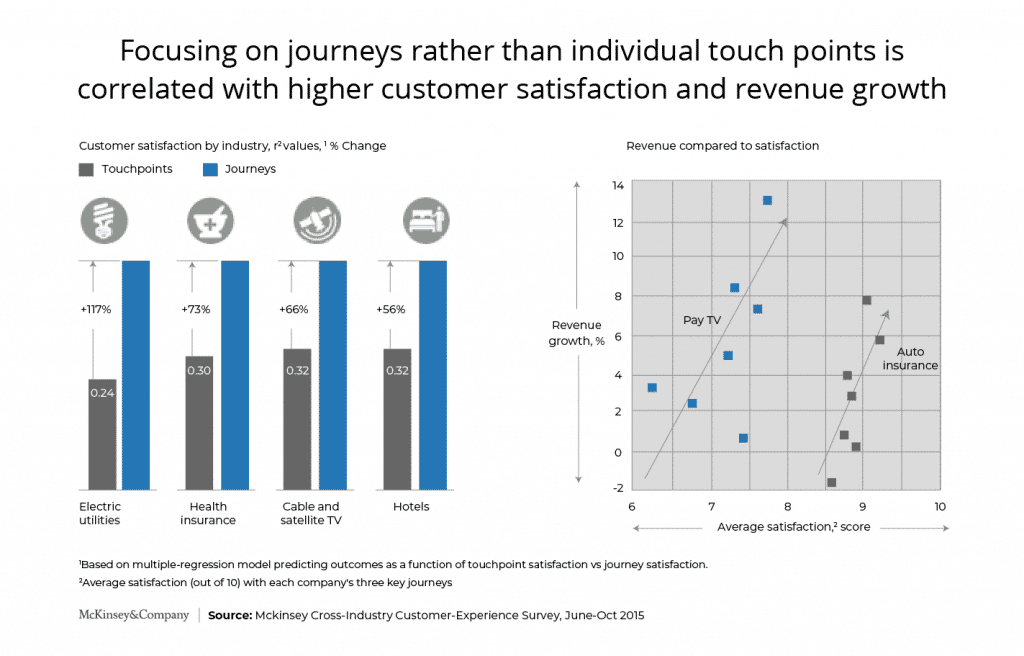 Cross-Channel Customer Engagement With CXM
A CXM approach requires a platform that utilizes customer preferences around content, meeting times, social connects, and more from basic CRM platforms and applies the information across modern digital application stacks that cover multiple customer touchpoints. All these interactions are then converted to insights using modern data automation and AI technologies to help deliver next-gen customer experiences.
As customers move from one channel to another, whichever is the most convenient at that point in time and for the purpose of the interaction, they expect to have their history and context be carried forward and their requirements be met painlessly. This omnichannel experience is what CXM enabling platforms are designed to deliver.
Segmentation and Journey Mapping With CXM
Product and corporate emails, scheduling of remote and face-to-face meetings, surveys, sampling, and events should all be part of automated workflows within a CXM approach for a complete customer journey. Even segmentation should be automated through all the data collected across channels as machine learning and predictive analytics are integrated within a modern platform. In such systems, it is no longer about the "one" next-best action but instead about considering several actions that could be best suited for the segment as recommended by the system.
Automate HCP Touchpoints Across Channels


From setting up symposiums, advisory boards, and KOL webinars to distributing top-of-the-funnel content that would help prescribers identify their patient's challenges, desired outcomes, and needs as well as new trends in the management of the patient's disease state such as wearables and apps, it is more about the variety, level of personalization, and frequency of the touchpoints that will help nurture the HCP through to consideration and even prescription.
Executing Campaigns and Events to Engage Customers in Their Journeys
Both marketers and sales utilize various tactics to capture interest and nurture HCP relationships to convert non-prescribers to prescribers. A modern platform can help with every step of the process, from planning to launching digital campaigns across connected channels and measuring success in a scalable way.
Traditionally most pharma and biotech marketing activities have been managed outside of systems or through many systems. A CXM enabling platform hosts and tracks a vast number of typical marketing and sales tactics in one tool. These include email campaigns, social campaigns, remote meetings, webinars, face-to-face meetings, live events such as lunch and learns, and so on. Moreover, list management, call planning, segmentation management, landing pages with registration forms, email templates, event registration functionality, speaker management, venue management, and tracking sponsorships are also among the activities that can be managed.
Lead scoring functionality qualifies the level of interest from HCPs at every stage of the customer journey, delineating types or levels of active HCPs from non-engaged ones, as well as pairing channel engagement rates with prescribing patterns and helping the system further segment for greater personalization.
Unified Data Platform
Delivering consistent omnichannel experiences and personalized content is largely driven by having a customer data platform that gathers data across channels and touchpoints. Insights created from this unified data view can then be channeled across the sales and marketing organization and departments and further fuel a CXM strategy for intelligent customer engagement recommendations. In other words, a unified data platform on the back end deepens customer understanding and enables intelligent segmentation based on actual customer behavior, complimenting demographic and firmographics segmentation.3
Conclusion
With organizations managing customer experiences from the viewpoint of each department and their customized systems, it naturally creates several disconnected strategies driven by the desires and motivations of each department and its KPIs. The strongest and most unique competitive advantage is hence achieved when an end-to-end customer experience approach is in place across departments. This requires a shared vision across all customer-facing teams and an integrated customer experience management system.
References:
Ascher J, Höglund D, M'lika A, Ostojic I, Vancauwenberghe M. From product to customer experience: The new way to launch in pharma. McKinsey & Company. https://www.mckinsey.com/industries/pharmaceuticals-and-medical-products/our-insights/from-product-to-customer-experience-the-new-way-to-launch-in-pharma. Accessed September 22, 2019.
Nicolas Maechler, Kevin Neher, and Robert Park From touchpoints to journeys: Seeing the world as customers do. Mckinsey & Company. https://www.mckinsey.com/business-functions/marketing-and-sales/our-insights/from-touchpoints-to-journeys-seeing-the-world-as-customers-do# . Accessed September 25, 2019.
Shruti Shukla. Customer centricity: A key priority across lines of business. Microsoft. https://cloudblogs.microsoft.com/dynamics365/bdm/2019/08/19/customer-centricity-a-key-priority-across-lines-of-business/ . Accessed September 19, 2019.