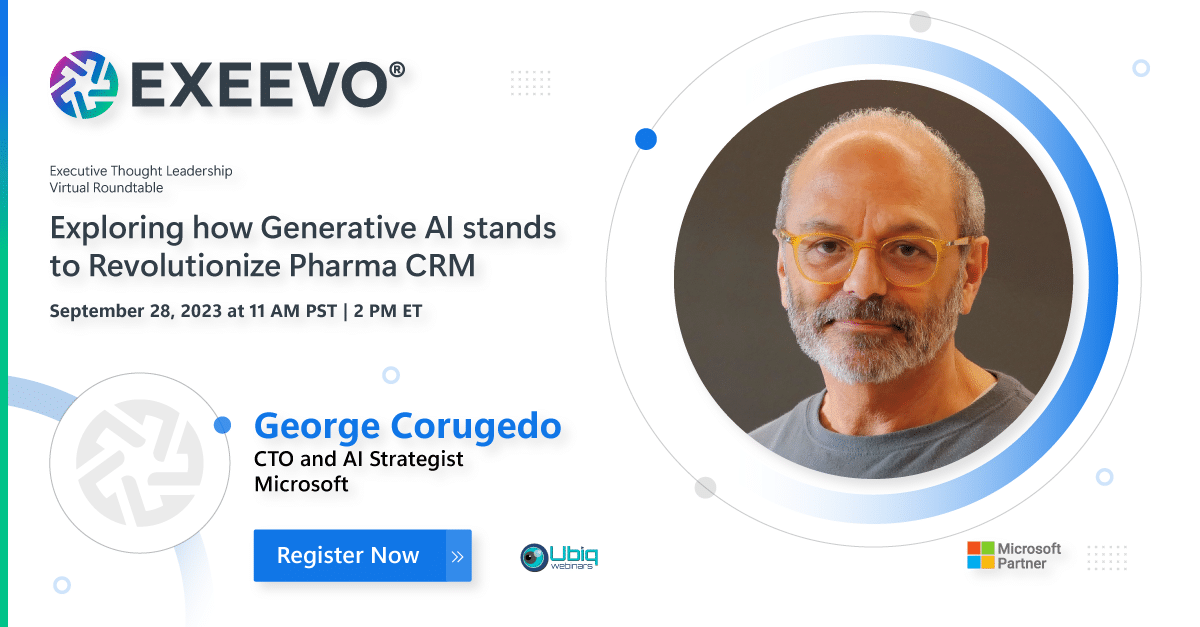 As pharma companies grapple with the complexities of an evolving healthcare environment, rapidly emerging technologies such as generative AI are unlocking new ways to streamline operations, optimize customer relationships, and unlock new avenues of value for users and customers alike. In this 90-minute virtual roundtable, Commercial IT decision-makers will gain vital insights into leveraging the power of Generative AI across their customer infrastructure, ultimately leading to more efficient business processes, improved customer relationships, and a significant competitive edge in the pharma industry.
The discussion will commence with a brief introduction to generative AI, providing a broad overview of its principles, functioning, and potential. This segment will help attendees build a solid understanding of generative AI, its divergence from traditional AI approaches, and its potential in the pharmaceutical industry.
Diving deeper, we focus on the potential use cases for Generative AI in enhancing CRM. Through discussion, we will uncover a range of opportunities and challenges, including predictive modeling, automating customer interactions, enhancing the usability of CRM tools, and facilitating personalized marketing.
By the end of the session, participants will be equipped with knowledge about generative AI's role in transforming CRM in pharma, empowering them to make informed decisions for their organizations about how best to bring its capabilities into their business and inspire new ways of working.
Seats are limited to 8 participants so register now to reserve your spot. This virtual roundtable is not broadcast or recorded, so attendees can ask questions and share their own perspectives without concern.
Register for USA September 28, 2023 – 11 AM PST | 2 PM ET
Register for EU October 26, 2023 – 11 AM CET
About George Corugedo
Mr. Corugedo embarked on his illustrious career as a Researcher pioneering the art of modeling planetary shapes and their peculiarities with intricate geometric techniques at the University of Arizona's Lunar and Planetary Labs. Collaborating closely with NASA and using data from Voyager I's observations of Saturn's largest moon, Titan, he crafted sophisticated methods for capturing planetary profiles, from bulges to atmospheric intricacies. Though seemingly specialized, this deep dive into the scientific method would set the tone for his foray into the realms of data, technology, and analytics in the corporate sphere.

Subsequently, at the globally renowned management consulting behemoth, Accenture, Mr. Corugedo's journey took another significant turn. Here, he founded the groundbreaking Data Mining Lab and the Customer Insights Group and infused his scientific rigor into predictive analytics, predominantly in the realm of customer behaviors. Mr. Corugedo's innovative stance birthed a streamlined data monetization cycle, hinged on the Data, Insights, and Action triad.

Drawing from his foundation in scientific precision and firsthand experience with Global 500 entities, Mr. Corugedo ventured into entrepreneurship, spearheading startups like Riskuity, ClarityBlue, and Redpoint Global. While the former two witnessed successful exits, Redpoint Global flourished, boasting over $100 Million in ARR and securing a notable position in Gartner's Leadership Quadrants.

At Redpoint, in his role as the founder and CTO, Mr. Corugedo shaped the company's strategic trajectory. Within a mere 18 months, Redpoint functionality stood toe-to-toe with industry giants like Unica and Adobe, in the campaign management sector. Under his leadership, the company not only set the gold standard in data quality, curation and lineage but also propelled the wave of data-centric culture that is prevalent today. Moreover, Redpoint was among the pioneers to introduce a fully automated AI/ML suite for business users, which was received with resounding acclaim.

Currently, as a strategist in Microsoft's Americas GPS, Mr. Corugedo's vast and diverse experience forms the bedrock of his consultancy endeavors with a select number Microsoft's premier partners. Collaborating intimately with their product leadership teams, he seamlessly fuses strategy, market dynamics, and technical ability to deliver unmatched successes consistently.