Speed new content to market
Relevant content the key to omnichannel engagement
Omnipresence handles content management by weaving it seamlessly into its core. Outlook, Field, Sales CRM, Service CRM, Marketing Automation, Teams, Medical CRM, and our GO APP are all compliantly interconnected in one cloud solution.
With a robust organization-wide central repository orchestrating the entire content lifecycle from creation to dissemination our integrated solution empowers Medical, Legal, Regulatory, Marketing, and Creative Agencies to collaborate seamlessly in real-time.
Global teams can craft, scrutinize, endorse, and monitor content with unparalleled ease. With a depth of capabilities, including advanced digital asset management, meticulous claims tracking, and the versatility of modular digital content.
Eliminate MedComms, CLMs, and Insight solutions
Put AI to work. Use enterprise-wide data and insights to speed content creation.
Connect your teams and processes using organization-wide data to create exceptional content that drives personalized customer experiences at scale.
Collaborative approval workflows speed content to market
Collaborative workflows and robust compliance features streamline how your global Commercial, Marketing, Medical, Legal, and Regulatory teams work together to get content to market.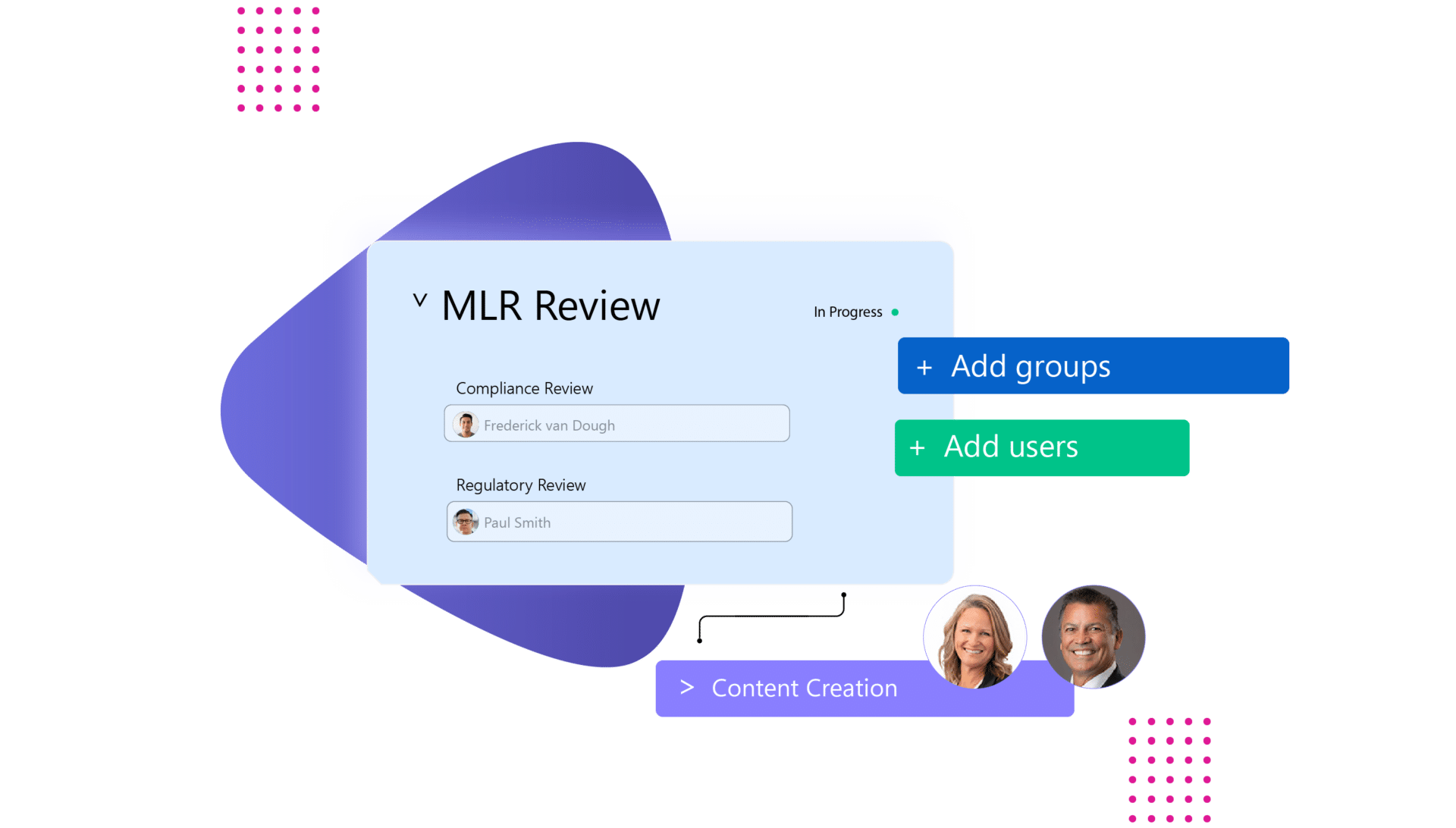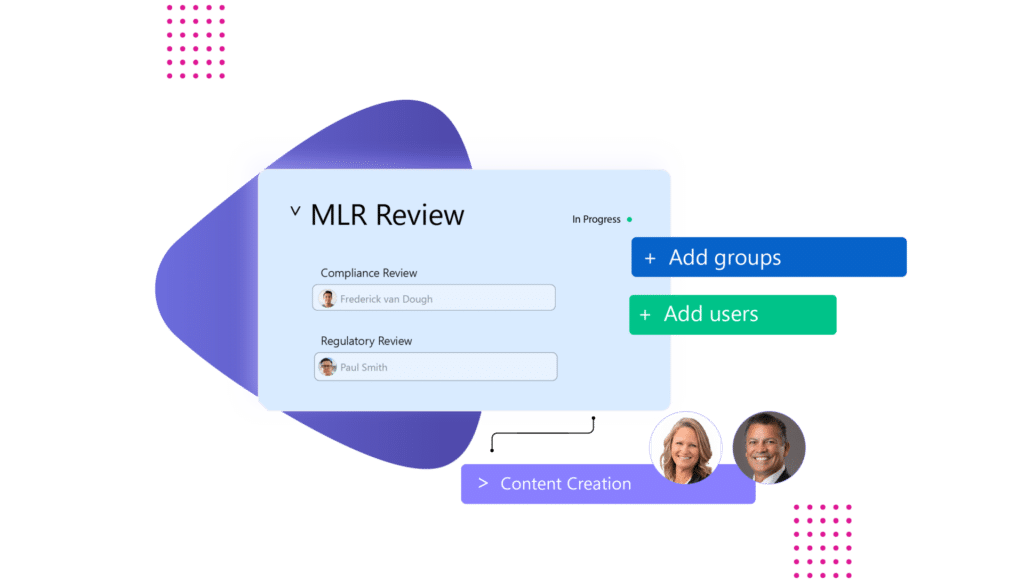 Use Teams to quickly globally manage the review and approval process in real-time
Built-in MSL content and process compliance
Capture audit trails for all content requiring review to maintain process compliance in case of an audit. Quickly and easily withdraw or edit content when needed using secure e-signatures. Reduce risk by aligning processes to standard operating procedures (SOPs).
Create, review, and approve web content
Omnipresence content management allows you to create and review draft or live web pages and web apps in their native, interactive format. Streamlining the entire creative process saves time and fosters a collaborative review of digital content.
Easily localize and track global content
Localize global documents and host them in one secure centralized library. When content is revised it's easy to understand the versions of content that needs to be updated.
Permission-based device-agnostic functionality provides Sales with approved content
AI-enabled reporting and metrics
Access key system and content metrics you need to make strategic business decisions by analyzing the data that matters most to your organization. Optimize over time and report success to your leadership team.
Capabilities built for speed
Pre-built roles or create your own

Content Creators and Designers

Content Editors

Content Readers

Content Approvers

Content Administrator

Custom Personas
Designed for growth
Streamline and close process gaps
AI-enhanced capabilities optimize how teams review, approve, and disseminate global content to achieve speed to market and maintain a competitive advantage
Be compliant
Be confident that everyone is using the latest versions of approved content across all geographies. Enable your teams to expire outdated content as needed.
See everything
Drive home HCP personalization metrics that matter from content, customer insights, medical, commercial, marketing, field, and service.
Yes, content management includes generative AI capabilities that are inherited from Microsoft Copilot.
There are no extra fees. It is part of Omnipresence.
Yes. Omnipresence CRM provides compliant, realtime seamless collaboration.
Yes, as Omnipresence CRM is built on Dynamics 365 architecture. Hundreds of application connectors are available.
Yes, iPDF can be uploaded as part of documents catalog in Omnipresence, this can be used as push resource or can be detailed during Face-to-Face meeting
Yes interactivities can be tracked for HTML.
Presentations uploaded in the Presentation catalog will be converted to html so some functionality may be lost.
Presentations can be uploaded in the document catalog directly and shared in the form of push resources or used for detailing
Yes, polls, surveys and sound is supported.

Exeevo is a trusted technology investment decision
Get the peace of mind that comes from partnering with a Life Sciences leader with global expertise