Gartner's Hype Cycle for Life Sciences Commercial Operations, published in July, provides insights into emerging and established technologies that Gartner sees as relevant to specific industry requirements. And Gartner identifies as a key player in three categories. On the commercial side, there's Key Account Management (KAM) and Personalization Engines, and then there's also the Patient Engagement hub. Today, I'm just going to look at the first of those categories, Key Account Management, and see what it is that Exeevo brings.
Key Account Management covers the tools that allow Life Sciences organizations to plan and manage their relationships with strategic customers like payers and healthcare providers. It has a different set of requirements to traditional life sciences CRM solutions, focusing on the HCP relationship, the need for collaboration, and coordinated action across many internal and external stakeholders to gather intelligence, plans, and progress. Often, high-value discussions around pricing, access, or formula arrangements provide a specific set of capabilities that haven't been present in most of the life science of CRM Solutions that we're using today. KAM solutions need to be able to assimilate data and insight from multiple sources to create the budget and benefit models that a life sciences company needs to be able to present to justify decision-making around choice in favor of their medicine or device. These plans need to be able to help direct companies' resources and activities. They can't just be disconnected objectives that don't drive toward a broader outcome.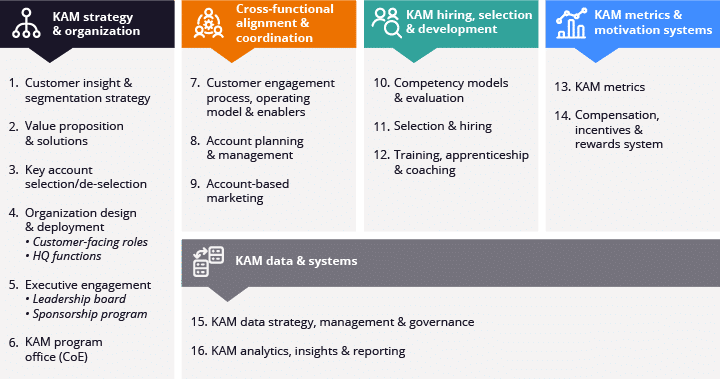 Now, what Gartner's done in addressing the traditionally poor fit of CRM tools for Key Account Management is demand the alignment of business and commercial teams to ensure that their actual needs are met. Gartner's analysis is that they see KAM's capabilities as making their way through the trough of disillusionment. They're two to five years away from real maturity, but they see high potential for improvement and impact. But, at the moment, about 20% to 50% of life sciences companies have invested in specific capabilities for key account management.
Gartner's Mention of Exeevo: A Testament to Meeting KAM Needs
The recognition of Exeevo in Gartner's Life Sciences Hype Cycle for Commercial Operations is significant for a couple of reasons:
Validation of Specialized CRMs: Gartner's acknowledgment reinforces that the industry is moving towards recognizing the importance of unified enterprise CRM solutions over generic ones. It demonstrates a growing trend towards tools that cater to specific roles and industries.
A Beacon for Innovation: Exeevo's inclusion highlights they are a solution tailored for life sciences commercial operations. It's a beacon for other businesses to understand where the industry is headed and the standards they should strive for.
Exeevo Omnipresence CRM native integration with Microsoft, specifically teams and other productivity tools, and a strong focus on operational planning and execution across the full range of channels that life sciences companies employ to make their enterprise solution a leader in KAM capabilities within life sciences.
Conclusion
The need for a solution to drive KAM and meet key account manager's needs, especially in the life sciences sector, is multifaceted. Their responsibilities demand a CRM that's more than just a contacts database. It should be a strategic tool, offering deep insights, tracking complex sales cycles, and ensuring compliance with industry standards I really recommend that you take a look at the Gartner Hype Cycle, if you haven't already.
If you want to learn more about Exeevo Omnipresence's CRM capabilities for Life Sciences. Get in touch.