Setting the future as an innovative, digital-first market leader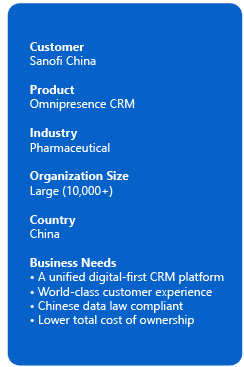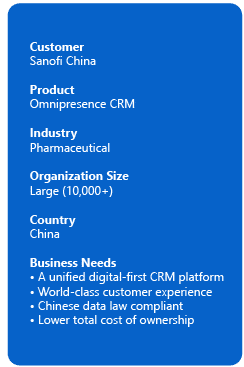 SANOFI China's commitment to driving life sciences innovation to significantly improve patients' lives is paying off, generating more than $2B in annual sales without signs of slowing down. Founded in 1982, they are an entity of SANOFI, an innovative global healthcare company that discovers, develops, and distributes therapeutic solutions and vaccines focused on patients' needs. Employees today number 10,000+ across 12 offices, three manufacturing, and four research and development facilities. Operations focus on Oncology, Immunology, Neurology, Rare Diseases, Diabetes, Cardiovascular, and an extensive portfolio of established medicines.
Challenge Growing Pains
Sanofi had outgrown its legacy systems used to manage its Field Sales Operations and Events activities which required them to build customizations and manage integrations independently. Reliance on the legacy system's custom solutions and internally developed business applications presented ongoing barriers to data management, flexibility, and scalability, hampering their speed and agility for their growth. Additionally, their global solution for CRM did not comply with the Cross Border Data Transfer (CBDT) legislation nor the Personal Information Protection Law (PIPL), which requires in-country data storage.
To achieve their vision and be data compliant, they needed to transform their customer solutions model into a single system for healthcare professionals (HCP), retail sales teams, and events management. This would allow them to streamline operations and enhance decision-making through better visibility across teams and customers, to deliver a world-class customer experience.
With its sights set on long-term growth and evolution, SANOFI China, saw an opportunity. They wanted the OneCRM platform to position them as an innovative, digital-first market leader in China, one that would deliver outstanding customer experience across an increasingly digital landscape to improve commercial results​ from streamlined operations, lower cost of ownership, and enhanced decision-making.
Key Decision Drivers

Partner with a next-generation life sciences technology leader who has digital-first capabilities and know how

Improve the TCO with a solution that leverages AI and ML to optimize the customer experience for HCPs and customers


Provide a robust omnichannel touchpoint model with seamless information sharing across all digital channels
Solution – Omnipresence CRM for Next-Gen Capabilities
SANOFI China chose Omnipresence CRM for its ability to accelerate digital transformation while driving innovation as a scalable, omnichannel commercial solution that would adapt to their evolving, dynamic business model. Device agnostic and backed by the power of Microsoft Dynamics 365, Omnipresence CRM integrates multiple data sources, advanced analytics, and machine learning to reveal insights, drive wiser decisions, and unleash new opportunities for commercial teams to increase agility and accelerate results.
Omnipresence is a cloud-based, scalable, low code/no code, and easy-to-deploy life-sciences-specific solution with CRM for Commercial and Medical teams, Marketing Automation, Event Management, and Commercial Operations – the OneCRM SANOFI China was looking for.

World-class customer and employee experience


Cross Border Data Transfer and Data Residency Compliant


Reduced total cost of ownership and improved decision making
World-Class Customer and Employee Experience at your Fingertips
Providing customers and employees with a world-class customer experience was essential to SANOFI. OneCRM is designed to improve customer interactions across all channels, from sales and marketing to event management. OneCRM, creates a 360-degree view of customers, allowing SANOFI to tailor real-time interactions at select channel touchpoints across a customer's journey to personalize each step of the way.
For example, a field rep can quickly access a customer's engagement history, preferences, and behavior, providing insights to help personalize interactions to deliver consistent value. OneCRM, built with AI-powered insights and analytics, helps employees better understand each individual customer's needs and preferences. For example, an events management team can use the platform's analytics to identify trends in customer preferences that allow them to anticipate and invite them to events of interest.
Overall, OneCRM will help SANOFI provide its customers and employees with a seamless and personalized experience that drives customer loyalty and business growth.
Chinese Data Residency Compliant, Now and for the Future
Compliance with Chinese Data Residency laws which mandates that all data must be hosted within China was a critical concern for SANOFI. 21Vianet, Microsoft's partner in China, provides the locally hosted cloud services that run Microsoft Azure, Dynamics, and other M365/O365 services.
With Omnipresence CRM built on the modern backbone of Dynamics 365 and Azure, it was the right choice to adhere to SANOFI's security requirements and provide peace of mind. From being hosted in the same cloud as other Microsoft solutions and 21Vianet operations being fully compliant with existing and future data residency legislation, it ticked all data management compliance requirements.
Reduced TCO Delivers Performance and Enhanced Decision Making
SANOFI China chose Omnipresence CRM for their OneCRM program to tap into the power of the Microsoft Cloud to drive global scale and operational proficiency alongside consolidating legacy investments. It provides real-time insights to improve business outcomes and automated processes to promote productivity.
Interoperability with other Microsoft solutions ensures business data is securely distributed via Power BI, collaboration is fostered through Teams, and low-code / no-code apps and automation work seamlessly with the OneCRM core to greatly enhance operational agility, reduce dependency on additional specialist staff and ensure that SANOFI remains ready to respond to future growth opportunities.
Working with OneCRMsaves SANOFI valuable time and resources. Instead of toggling between platforms and channels, piecing together intelligence from different sources and timeframes, everyone works from a common source of customer information, allowing them to adjust and access additional data quickly and easily. With the information presented on one platform, they can access performance data at a high level and drill down at will.
Using OneCRM's integrated dashboards, SANOFI can understand how different teams and campaigns work together to improve operational results and drive revenue. With a cross-channel view, they can find top conversion paths and other insights that help them make faster adjustments. This complete real-time data enables SANOFI to focus on the big picture.
Outcome
By implementing OneCRM, SANOFI has quickly adapted to new market dynamics, fine-tuned sales plans, and optimized HCP and customer engagement. This user-friendly solution with connected sales and event management functions has improved decision-making and go-to-market execution. The combination of Exeevo's domain expertise and ongoing managed support services enabled them to seamlessly begin deploying the OneCRM platform to over 5,500 users across China.
By providing SANOFI's operational teams with intelligent insights throughout the entire customer journey, SANOFI has dramatically improved alignment across customer-facing roles. To date, OneCRM has enabled SANOFI China to execute targeted sales strategies that drive their vision to leverage innovation to deliver personalized, world-class customer and employee experience.