Pharmaceutical companies have recognized the value of enhancing customer relations. There's been a notable shift from relationship management to a scientifically-driven engagement approach.
That's when implementing a CRM emerges as a solution.
A well-chosen CRM streamlines operations, ensuring efficiency and adherence to industry standards. An ideal CRM for pharmaceuticals comes with several benefits:

Unified omnichannel engagement model;
Unified data to drive intelligent insights and next best action;
Improved operational efficiency and lower total cost of ownership.

We've compiled a list of the 16 Best Pharma CRM solutions. When ranking these CRM solutions, we studied their popularity, ease of use, and integration options.

As we glance at the list of top-performing CRM platforms, Exeevo stands out as the frontrunner. Device agnostic and built on the power of Microsoft Dynamics 365, it provides a 360° view of customers and omnichannel journeys. Gartner, IDC and Everest recognize it as the only alternative to Salesforce-based solutions.

Let's find the right cost-effective tools for your use cases and propel your business toward greater efficiency and connectivity in 2023.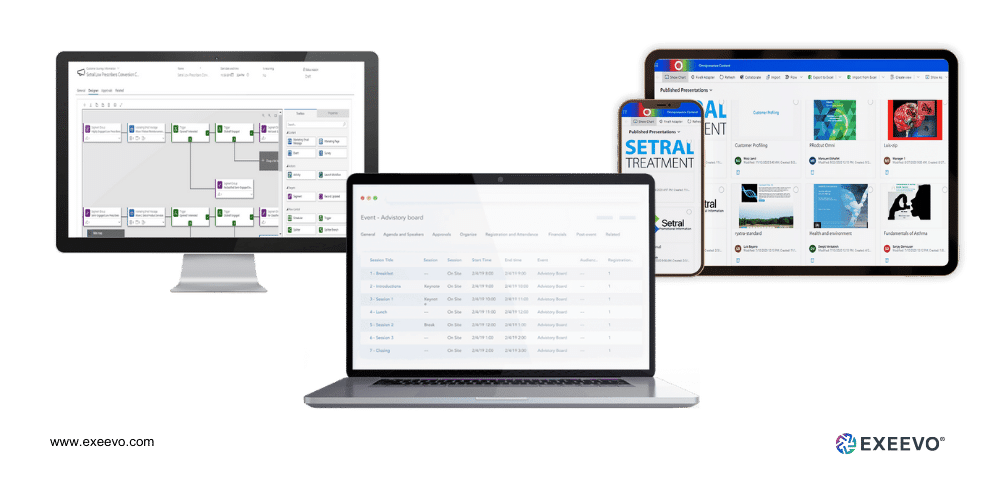 What is a Pharmaceutical CRM Software?
A Pharmaceutical CRM (Customer Relationship Management) solution is a specialized software platform tailored to the unique needs of the pharmaceutical industry. It drives connectivity and efficiency in pharma businesses.
CRM in pharma goes beyond managing customer relationships. It encompasses every interaction, from the first touchpoint with field reps to in-depth stakeholder engagement. A CRM serves as a bridge between pharma companies and their vast network. It streamlines operations spanning from commercial to stakeholder management.
For instance, field reps often need to visit doctors and medical professionals to inform them about new drug releases or to offer samples. A CRM helps schedule visits, log feedback, and manage follow-ups. It makes business processes smoother and helps field reps develop HCP personal relationships.
The pharmaceutical sector has its unique challenges. To name a few:
Regulatory compliance;
Patent expiration;
Constant need for innovation.
Here, CRM software plays a pivotal role. It ensures compliance by keeping track of communications and managing the threat of patent cliffs by maintaining robust databases. It also fosters innovation by collecting valuable feedback from medical professionals.
Benefits of Using Pharma CRM Software
In the complex world of pharmaceuticals, efficient management and customer relations are crucial. Pharma CRM software addresses the industry's unique challenges. Let's have a look at the benefits of employing a CRM solution:
1. Enhanced Customer Relationships
CRM solutions improve interactions with healthcare professionals (HCPs), distributors, and other stakeholders. It centralizes information about each stakeholder to ensure consistent and personalized communications.
2. Data-driven Decision Making
Using Pharma CRM solutions, businesses can bring together customer interactions and market trends, empowering them to make data-backed decisions. This enables better targeting, resource allocation, and forecasting.
3. Increased Commercial Efficiency
Forget about manually sifting through endless spreadsheets or notepads. CRM solutions keep track of commercial leads, client interactions, and follow-ups. It serves as an organized solution for the account executives' team.
4. Regulatory Compliance
Given the strict rules in the pharmaceutical industry, a Pharma CRM can help companies stay compliant. Tools like auto-call reports and sample tracking help meet legal requirements and lower the risk of breaking the rules.
5. Improved Marketing ROI
Pharma CRM solutions allow for segmenting HCPs and customers based on their preferences, specialties, and interactions. This segmentation leads to targeted marketing campaigns. It increases their effectiveness and delivers a better ROI.
6. Real-time Analytics and Reporting
Modern CRM solutions have robust analytical solutions. They provide real-time insights into commercial activities, customer behaviors, and market trends.
CRM solutions are strategic assets for businesses. They offer a range of features, from better customer interactions to meeting regulations. For today's pharmaceutical companies, they've become a necessity.
Specialty Pharma Company's commercial team was struggling with their market approach due to limited tools, especially in expanding to the Oncology sector. Their old CRM system couldn't support their growth. Exeevo's Omnipresence emerged as a potential solution and helped them improve go-to-market efforts while enhancing commercial productivity, operational efficiency, and customer experience.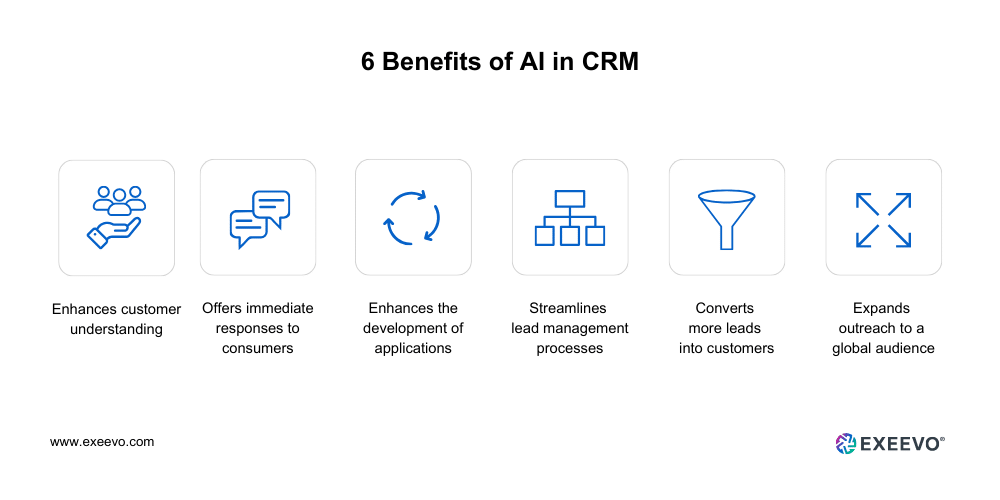 Top 16 Pharmaceutical CRM in 2023
With accelerated research, novel drug development, and a more discerning customer base, there's been a shift in pharmaceutical market demand. Organizations are transitioning from focusing on products to prioritizing customers, significantly increasing their digital interactions with healthcare providers (HCPs).
The surge in digital communication during the pandemic led to content overload for HCPs. To develop successful engagement, pharma companies must offer helpful content, work together across departments, and prioritize their customers. This can be a shift from the traditional structures of these companies.
As a result, companies are inclining towards advanced CRM solutions to address these complex challenges. Here's a glance at the top 16 Pharmaceutical CRM solutions you must consider in 2023: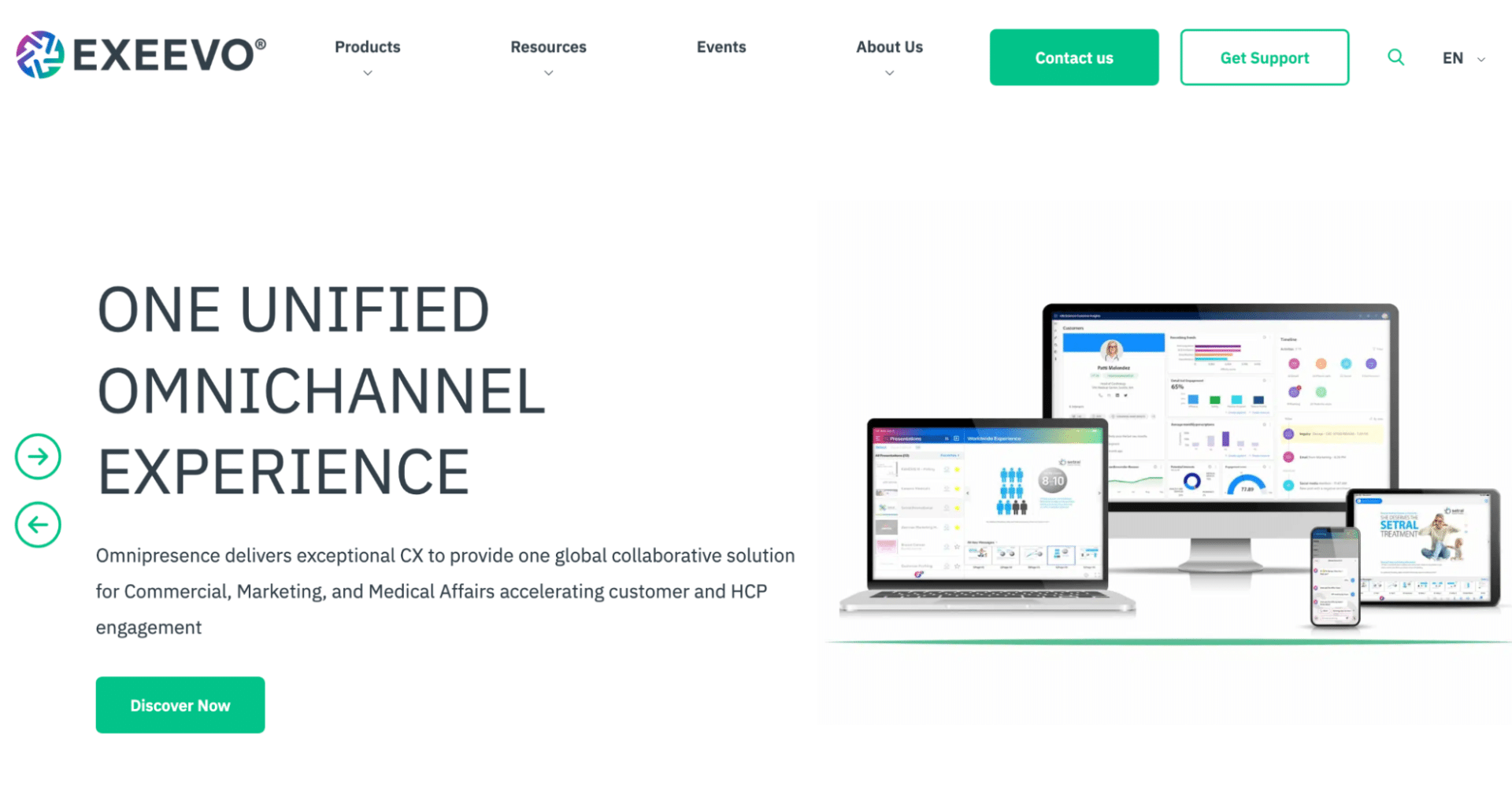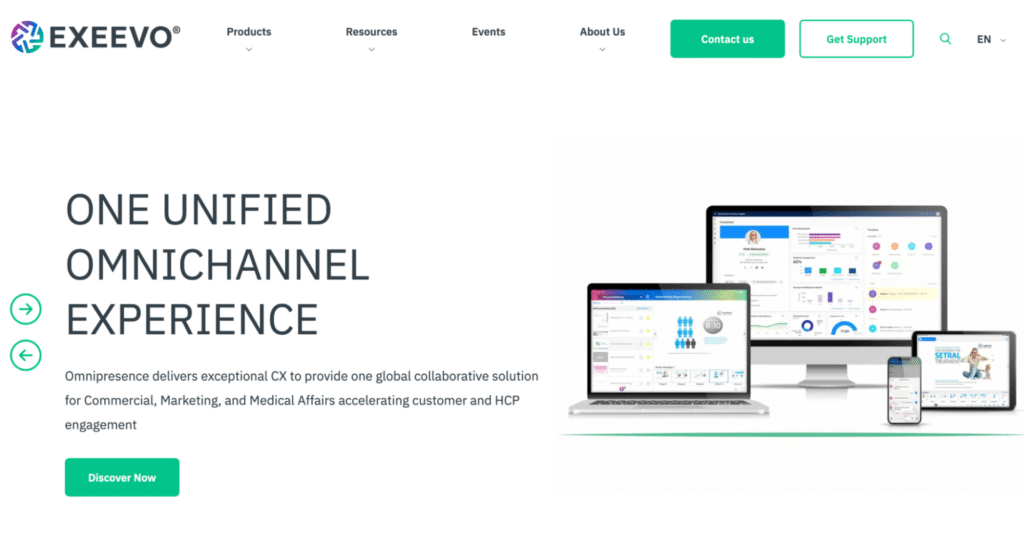 Exeevo's Omnipresence CRM – the only solution recognized by Gartner, IDC, and Everest as an alternative to Salesforce-based solutions – accelerates Life Sciences digital transformation and drives innovation as a scalable, omnichannel solution that is ready for today but built for tomorrow's business needs.
Device agnostic and built on the power of Microsoft Dynamics 365 and Copilot, Omnipresence CRM brings multiple business applications together in a unified system, coupled with advanced analytics to reveal insights, drive wiser decisions, and unleash new opportunities for commercial growth.
Exeevo's Omnipresence platform integrates Life Sciences personas and functionalities. This positions Exeevo as a comprehensive solution for Life Sciences organizations, including sales, marketing, events management, medical affairs, and commercial operations.
Key features and benefits
Device agnostic: Works across all devices.
Built on the Microsoft Dynamics 365 framework: Have robust integration power.
Unified platform: Manage many applications under one solution.
Advanced analytics: Deep insights into customer behaviors and sales performance.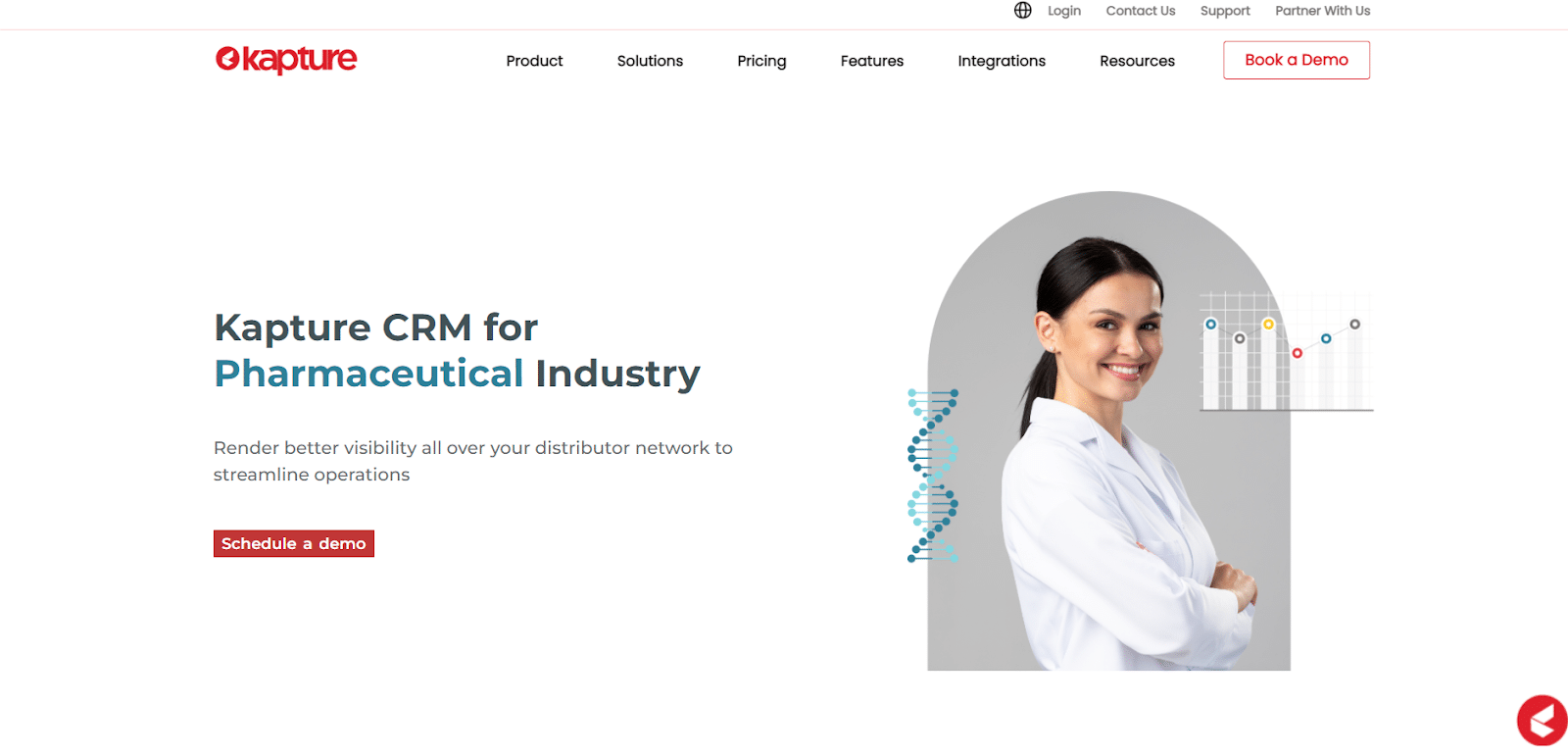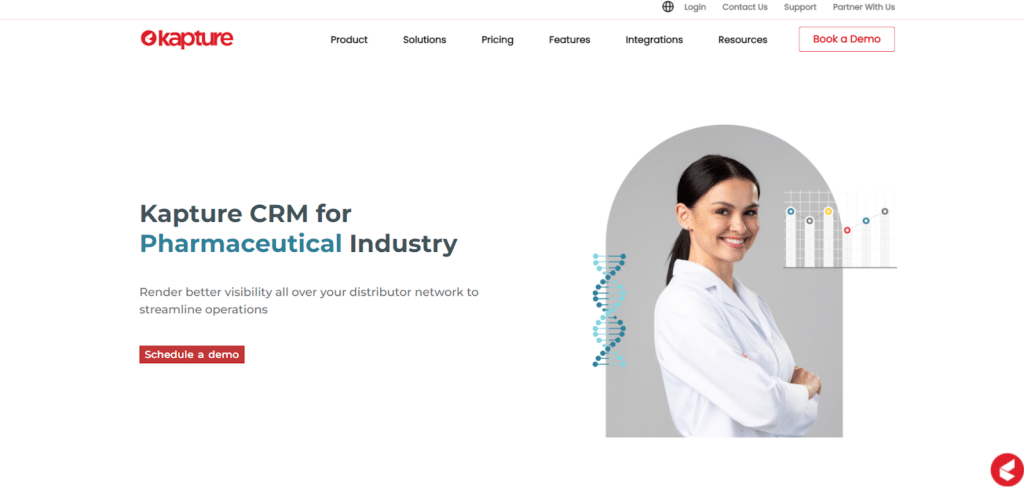 Kapture is a user-friendly CRM designed for pharmaceuticals. It streamlines operations and improves client interactions. With Kapture's powerful tools, Life Sciences companies can manage distribution and track inventory and sales.
Key features and benefits
Seamless integration: Simplifies processes by ensuring compatibility with existing systems.
Real-time analytics: Enable timely decision-making and strategy adjustments.
Tailored Pharma CRM Software: A personalized solution aligned with specific pharmaceutical needs.
Cloud-based: Access it anytime, anywhere.
Drawbacks
Learning curve: It takes time to grasp all functionalities.
Subscription costs: Expensive for smaller businesses.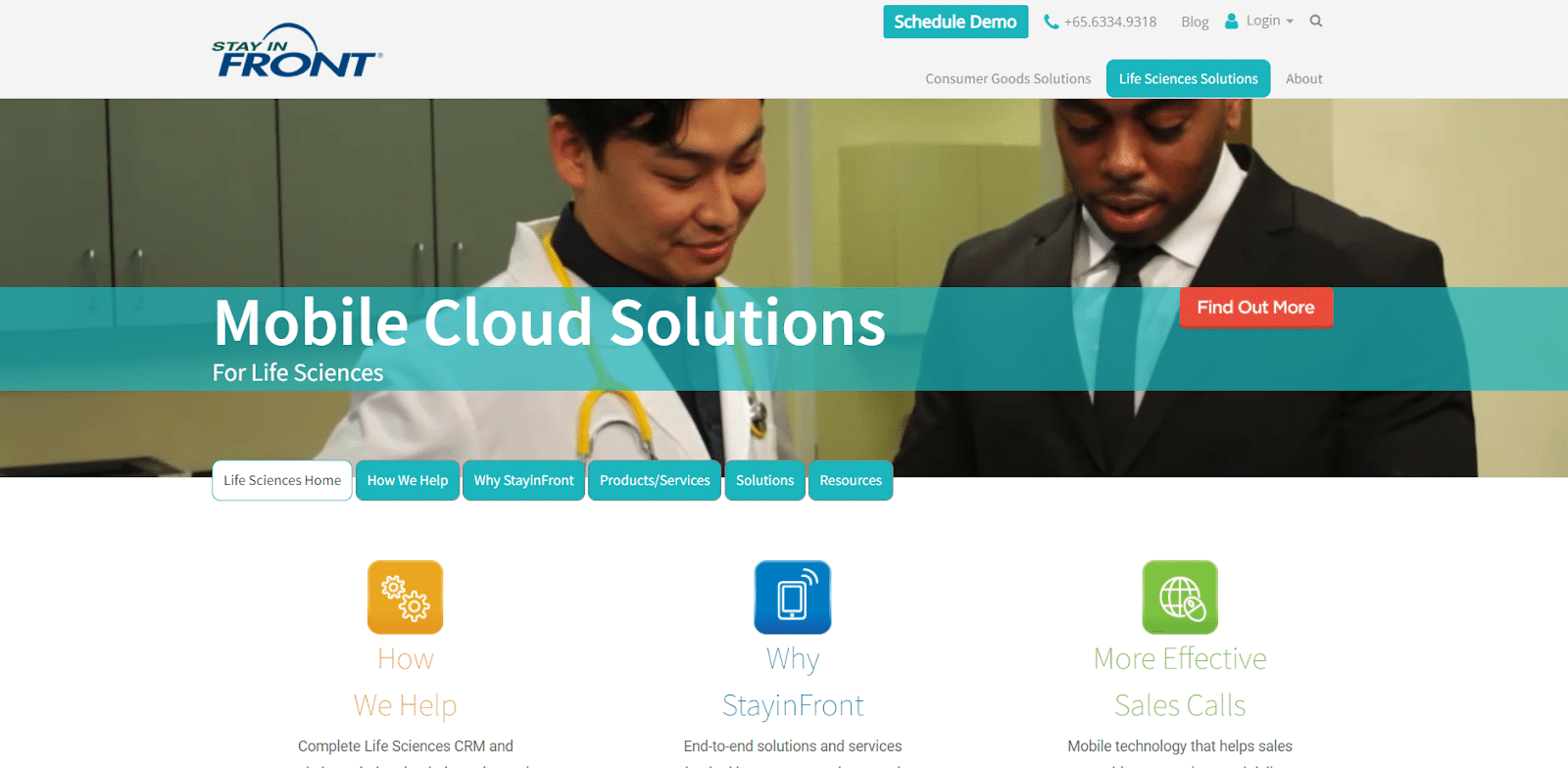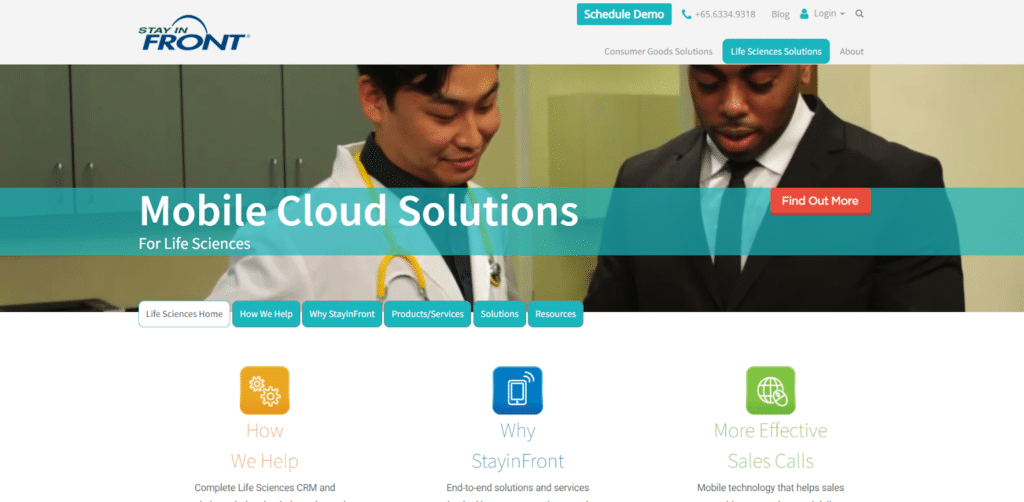 StayinFront addresses the unique challenges and nuances of the industry. It streamlines operations, fosters efficient client management, and aids in data-driven decision-making. StayinFront has easy-to-use tools that help Life Sciences professionals excel in innovation and connect with customers.
Key Features and Benefits
Robust analytics: Facilitates data-driven decision support.
User-friendly interface: Enhances user adoption rates.
Comprehensive client management: Centralizes all client interaction and data for improved relationship management.
Drawbacks
Cost implications: High overhead expenses.
Integration hiccups: Complications during integration.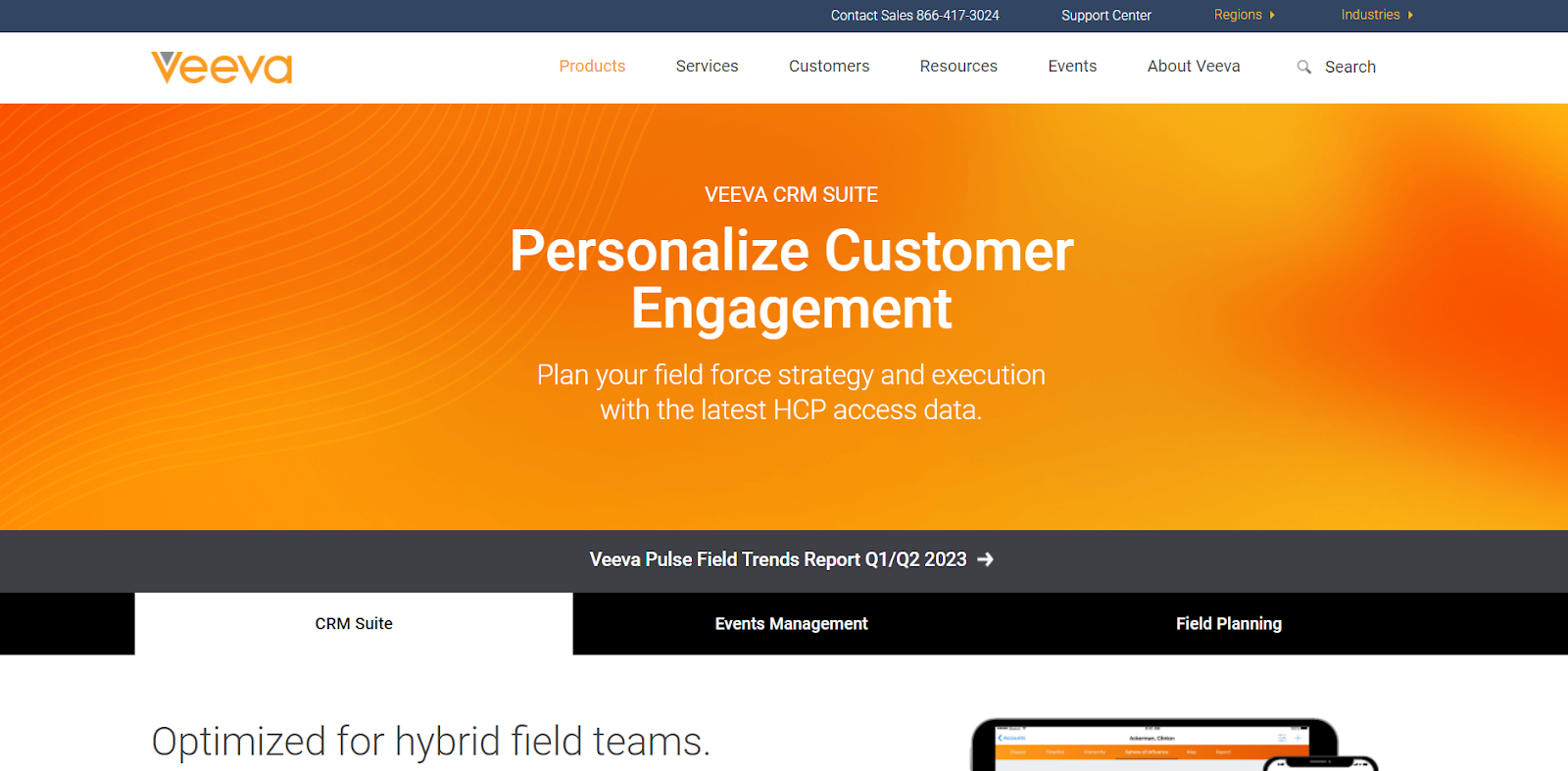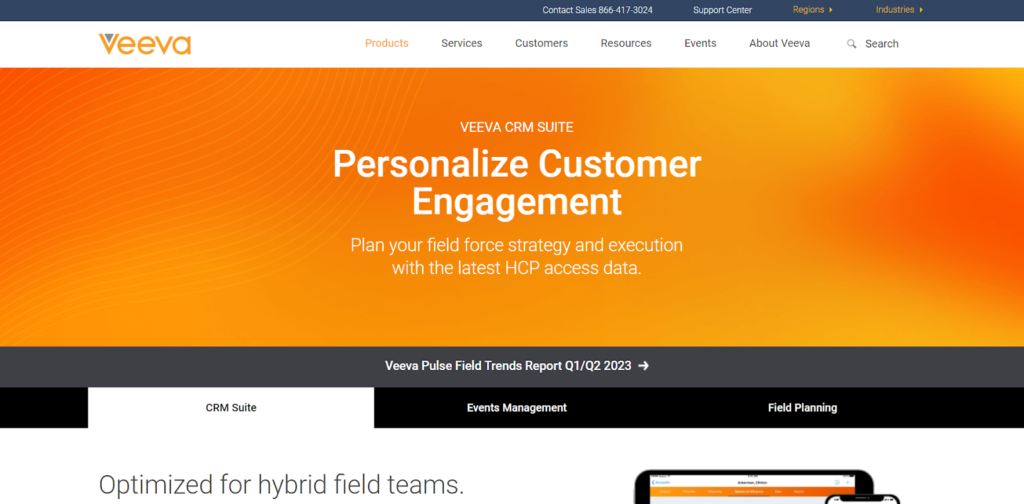 Veeva stands as a premier CRM for software needs in Life Sciences. It is optimized for hybrid field teams, emphasizing the needs of modern businesses. It ensures seamless functionality whether teams are on the ground or in operation. The core strength of Veeva's CRM lies in its commitment to personalization.
Key Features and Benefits
Cloud-based solution: Easy scalability, remote access, and reduced overhead.
Industry compliance solutions: Reduces risks and safeguards against potential violations.
Integrated data management: Streamlined operations and comprehensive insights.
Collaborative environment: Promotes efficient teamwork.
Drawbacks
Price point: Costlier than more basic CRM options.
Complexity: Might overwhelm new users.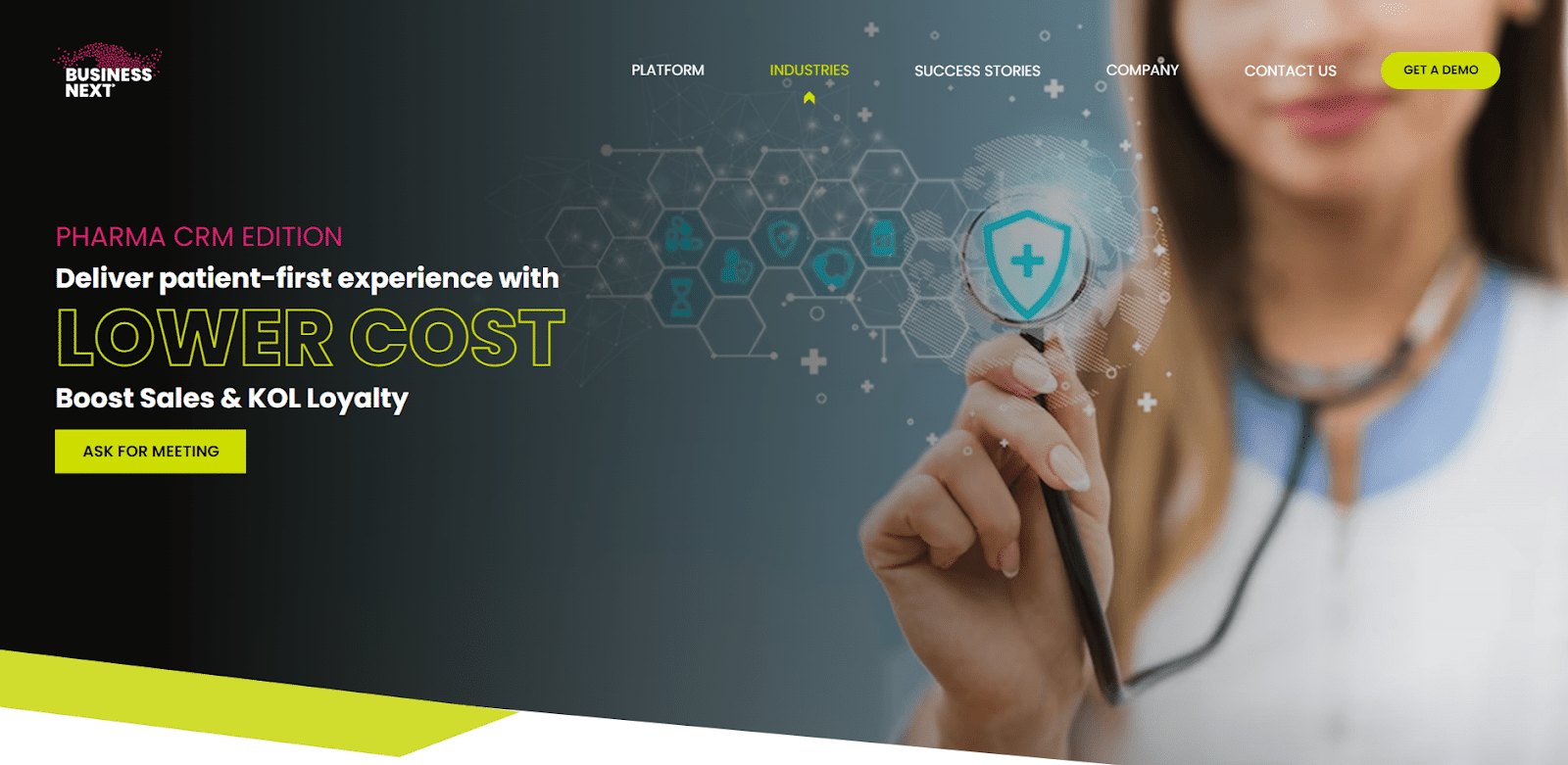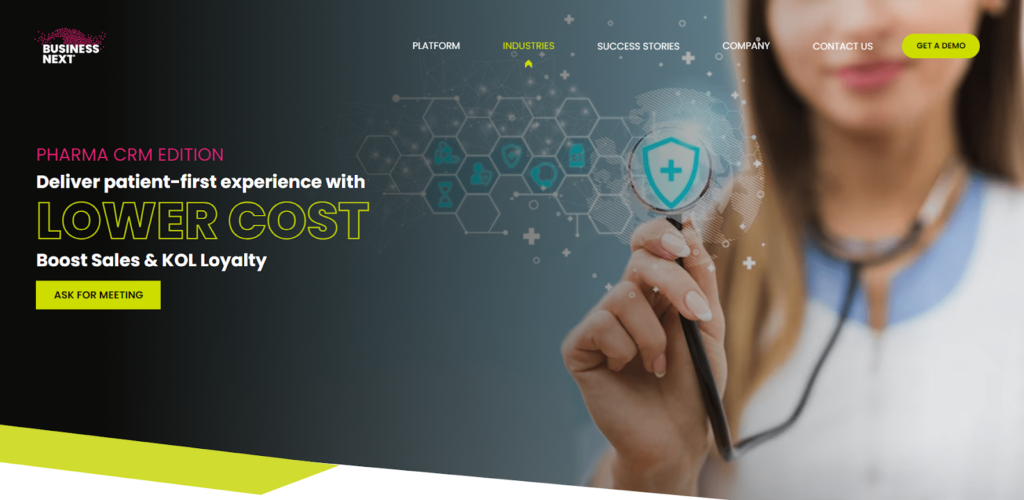 CRMNEXT Pharmaceutical is a top Pharma CRM software that prioritizes patient experience while reducing costs. The software boosts sales numbers and builds strong ties with Key Opinion Leaders (KOLs).
Key Features and Benefits
Patient-centric modules: Enhances patient engagement and satisfaction through tailored services.
Cost-effective solutions: Delivers industry-specific functionalities at competitive prices.
Cutting-edge analytics: Provides insights to drive commercial strategies.
KOL engagement solution: Strengthens ties with KOLs.
Drawbacks
More implementation time: Initial setup and integration require more time.
Training requirements: Regular staff training might be necessary.
Potential overheads: Initial investment overwhelms small businesses.
6. Creatio (or Bpm'online CRM Pharma)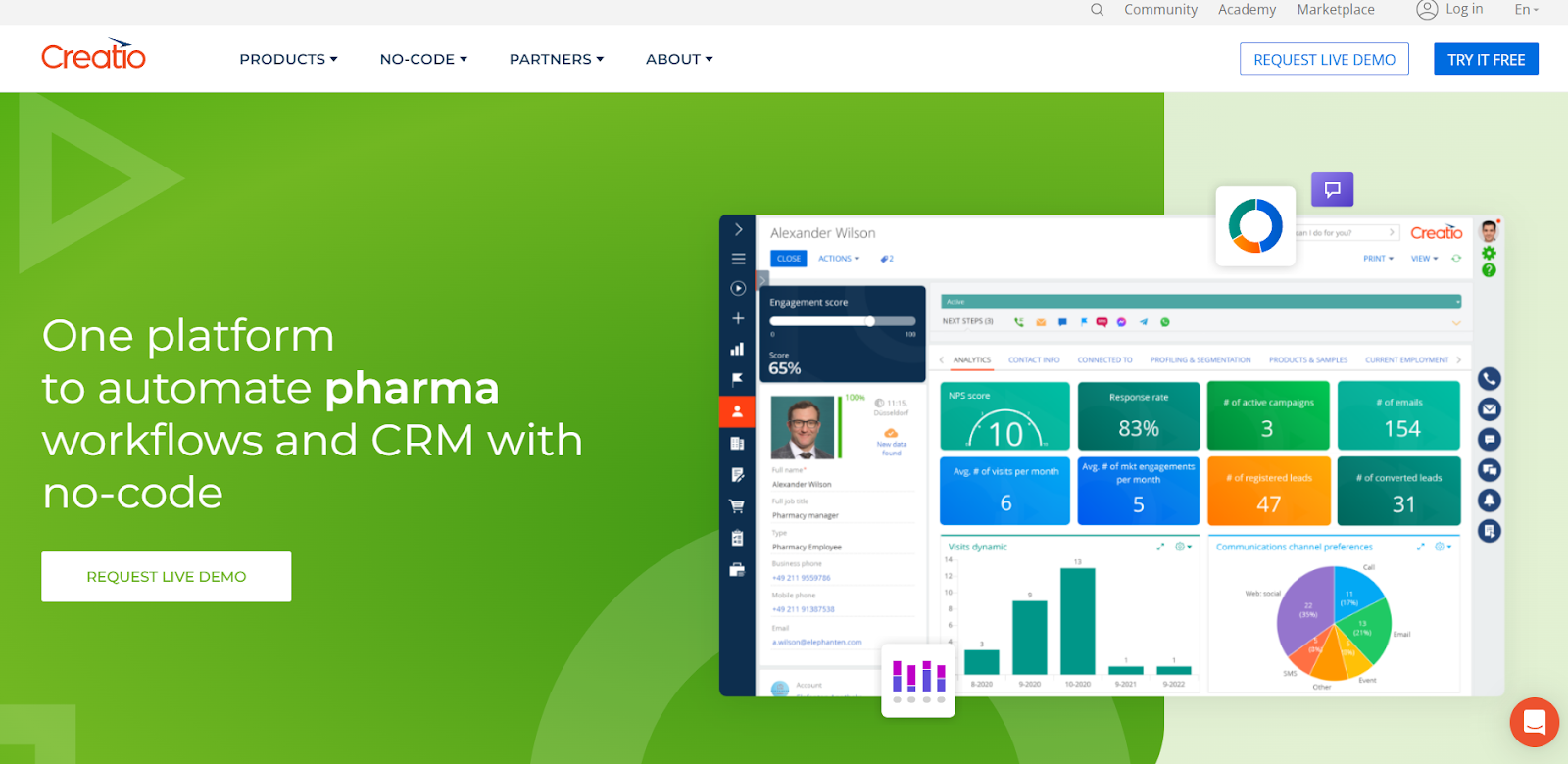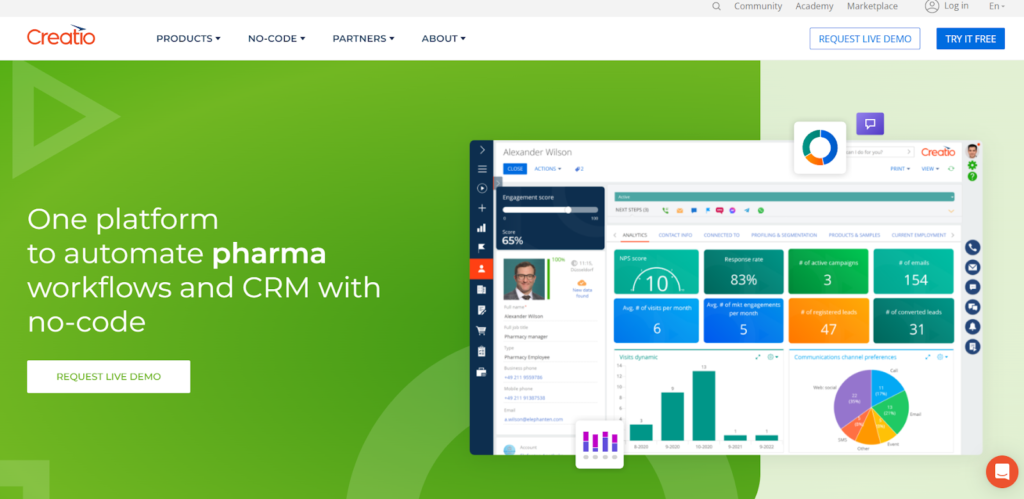 Creatio is a revolutionary solution that merges pharma workflows with CRM functionalities. Its distinct edge lies in its no-code approach, which enables rapid customization and deployment.
Key Features and Benefits
No-code customization: Doesn't need extensive IT knowledge.
Unified platform: Unified UI/UX, shared database, and multi-team, multi-workspace data processing workflows.
Robust analytics: Offers comprehensive insights for market strategy formation.
User-friendly interface: Enhances user experience.
Drawbacks
Subscription costs: Added costs for premium functionalities.
Scalability concerns: Complex adaptation for large-scale operations.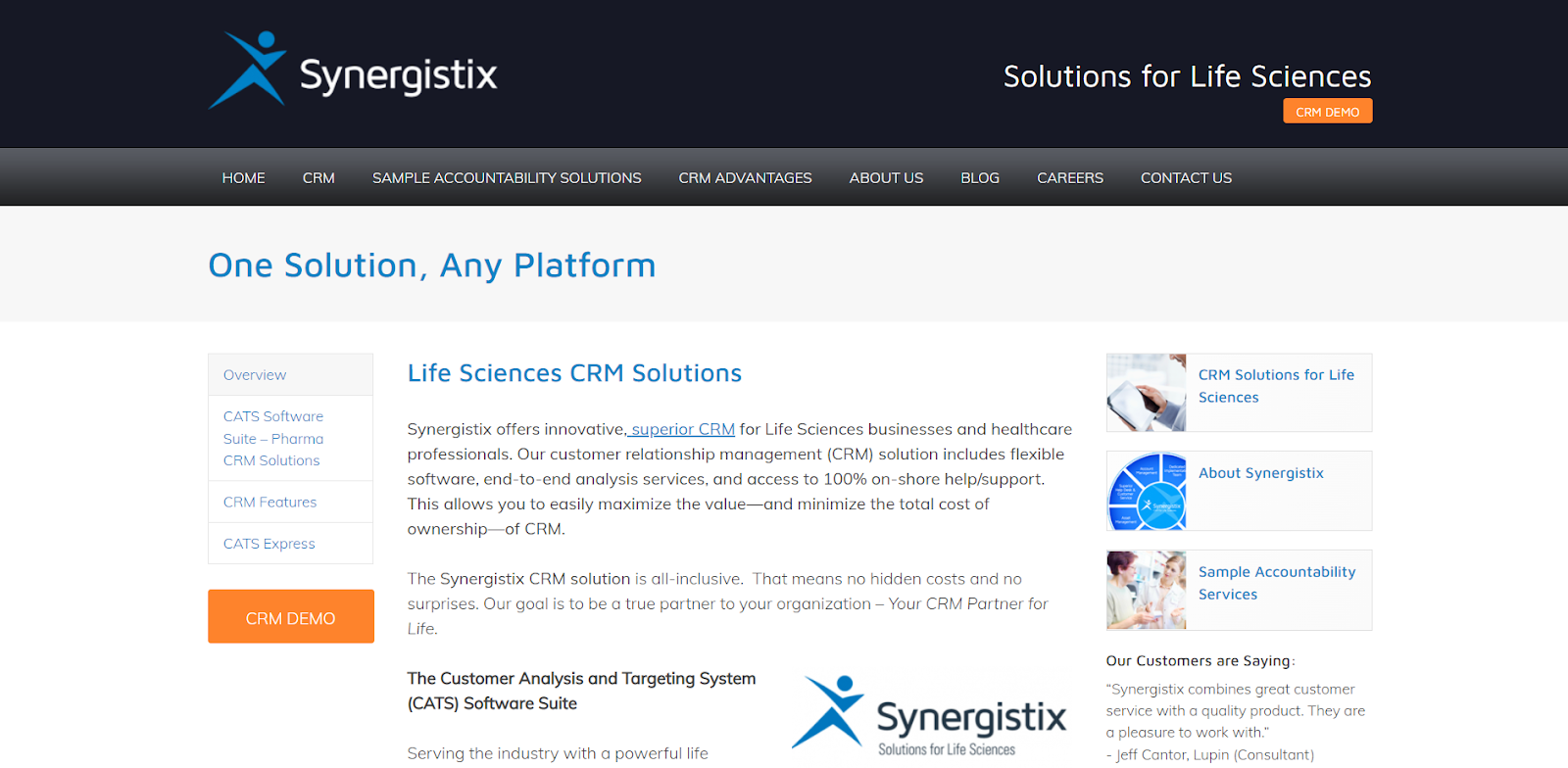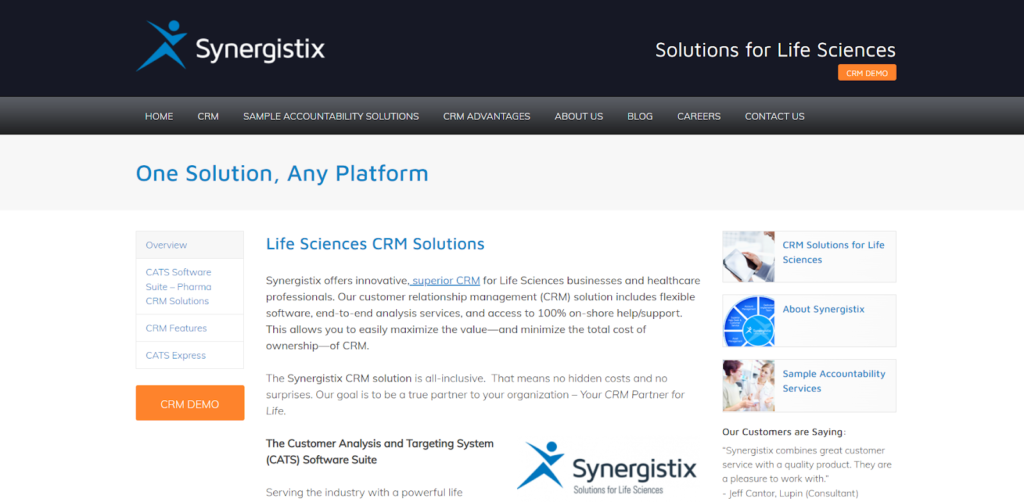 Synergistix provides the best Pharma CRM solution tailored for Life Sciences businesses. The solution emphasizes transparency and comprehensive support. With its all-inclusive approach, Synergistix pledges a partnership without hidden costs. This helps it position itself as a lifelong CRM ally for organizations.
Key Features and Benefits
Call management: Plan, track, and manage calls.
Sample accountability: Monitor compliance and inventory.
Robust analytics: Offers comprehensive insights for market strategy formation.
Reporting functions: Detailed reports on sales activities.
100% on-shore support: Guarantees swift and reliable help.
Drawbacks
Potential overhead: Costly for small organizations.
Learning curve: Require structured training sessions.
Scalability concerns: Constraints during rapid growth.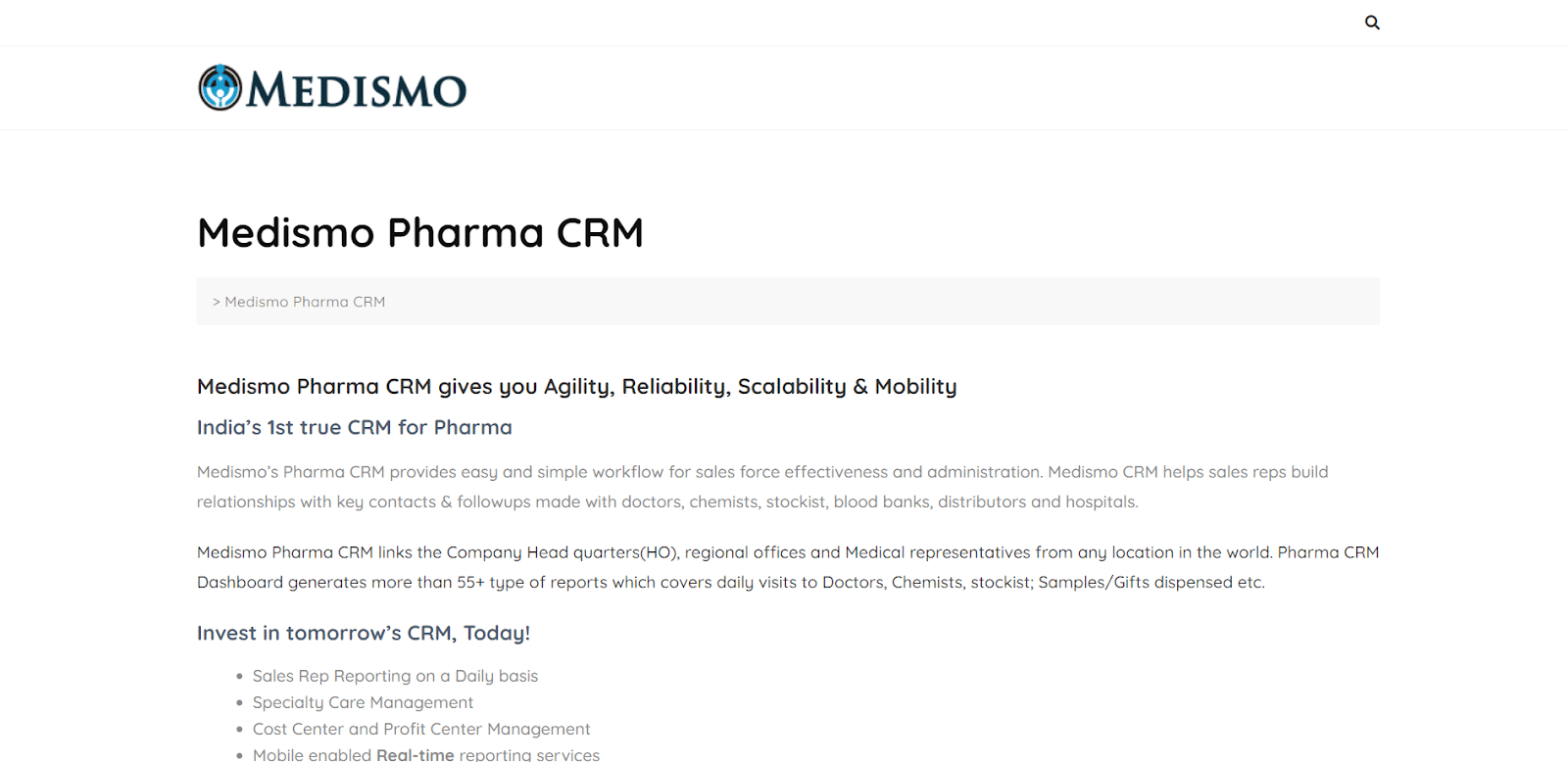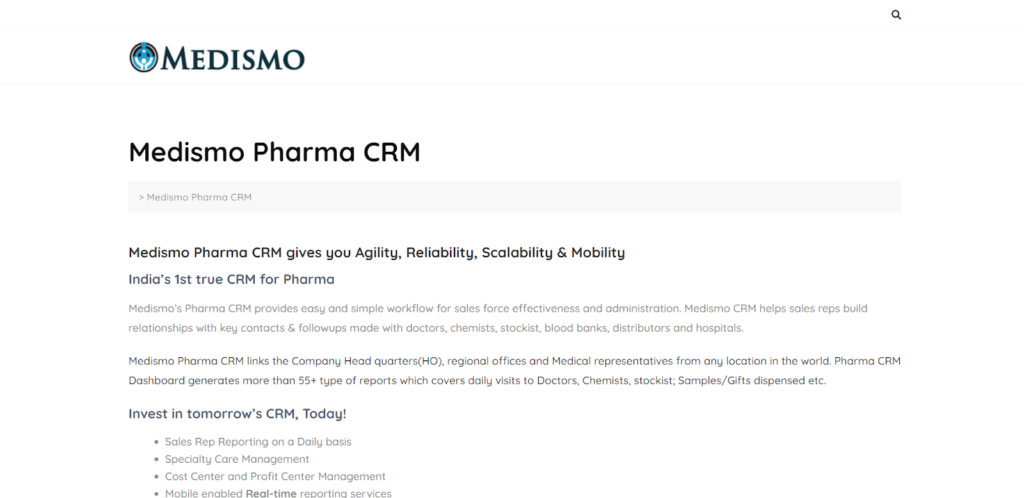 Medismo's best Pharma CRM software offers a seamless blend of agility, reliability, scalability, and mobility. It is designed to streamline the workflow. The platform empowers commercial representatives to maintain relationships across the healthcare spectrum.
Key Features and Benefits
India-centric Design: Medismo understands the specific demands of the Indian pharmaceutical market.
Agile workflow: Facilitates quick decision-making and adaptive strategies.
Comprehensive relationship management: Track interactions with no missed follow-ups.
Scalability: As your business grows, Medismo's CRM scales with you.
Drawbacks
Regional specialization: Limited applicability and features for global markets.
Over-specialization: Some parts might be too specific.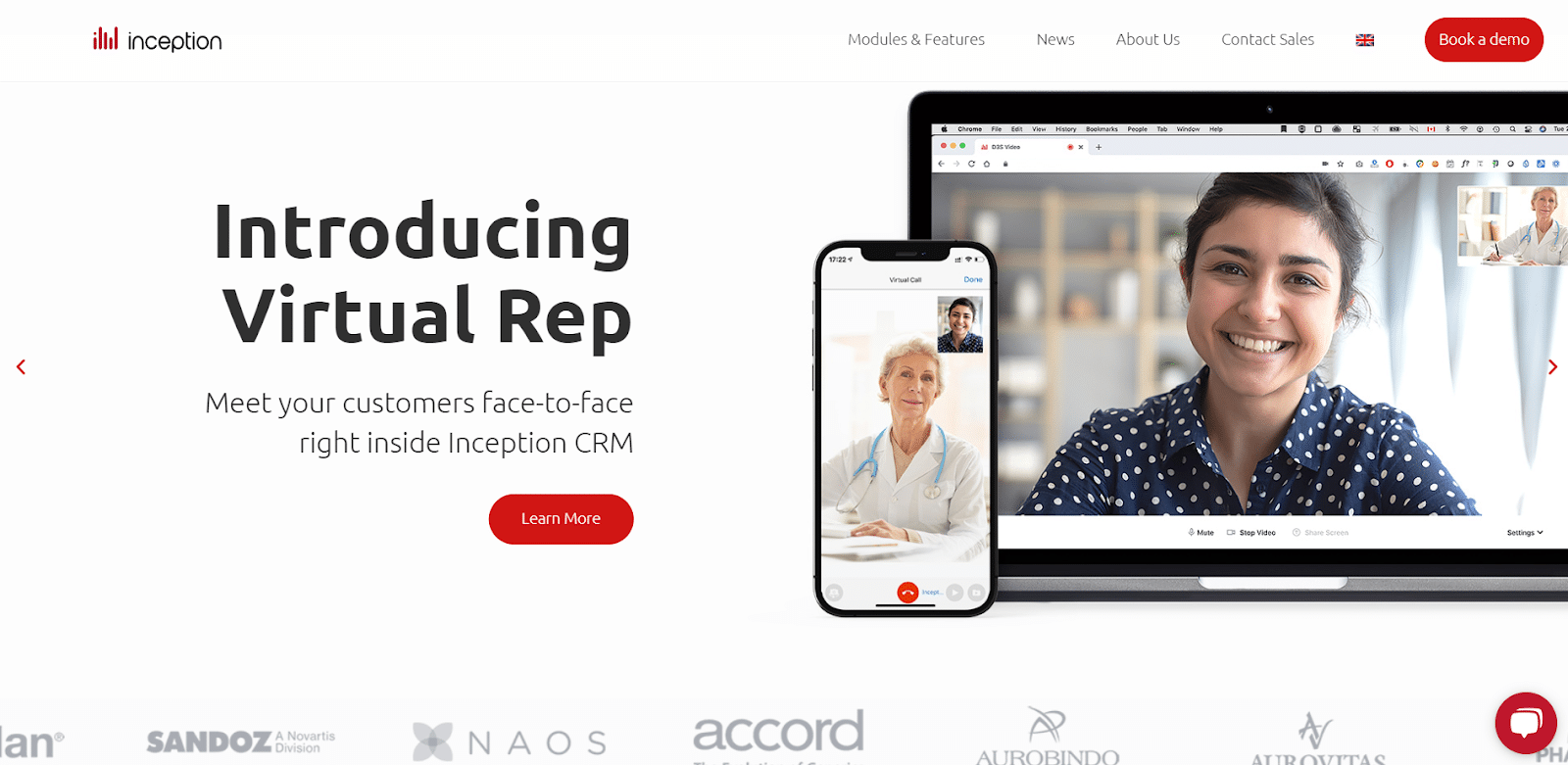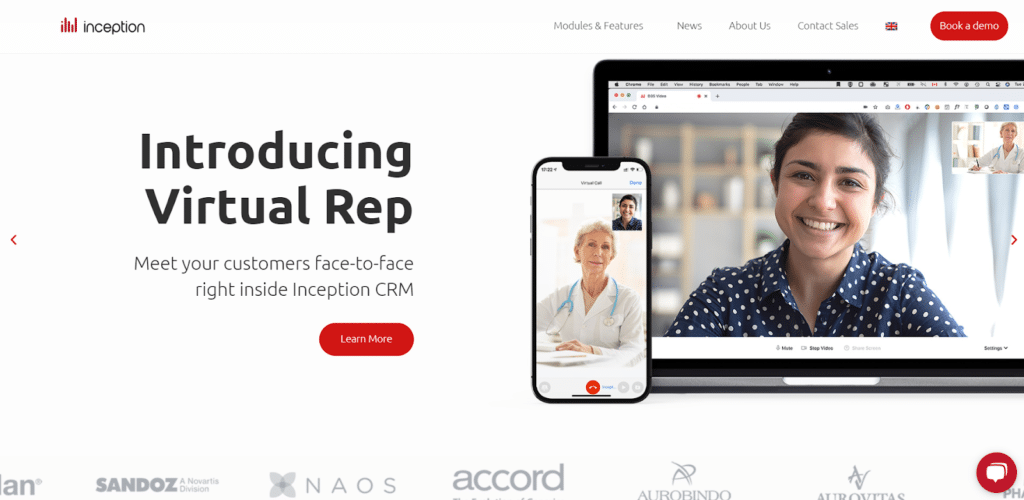 Inception CRM stands as a beacon for pharmaceutical and Life Sciences teams. It offers an intuitive solution that ensures targeted and timely outreach. The CRM bridges the gap between account executives and prescribers, formulary managers, and pharmacies.
Key Features and Benefits
Cross-platform availability: Offer users flexibility and consistent experiences.
Intuitive design: No tech-related interruptions.
Targeted messaging: A search engine helps the pharma reps find the right customer.
Timely interactions: Ensure key stakeholders are approached at optimal moments.
Drawbacks
Support limitations: Customer support response times or expertise could vary.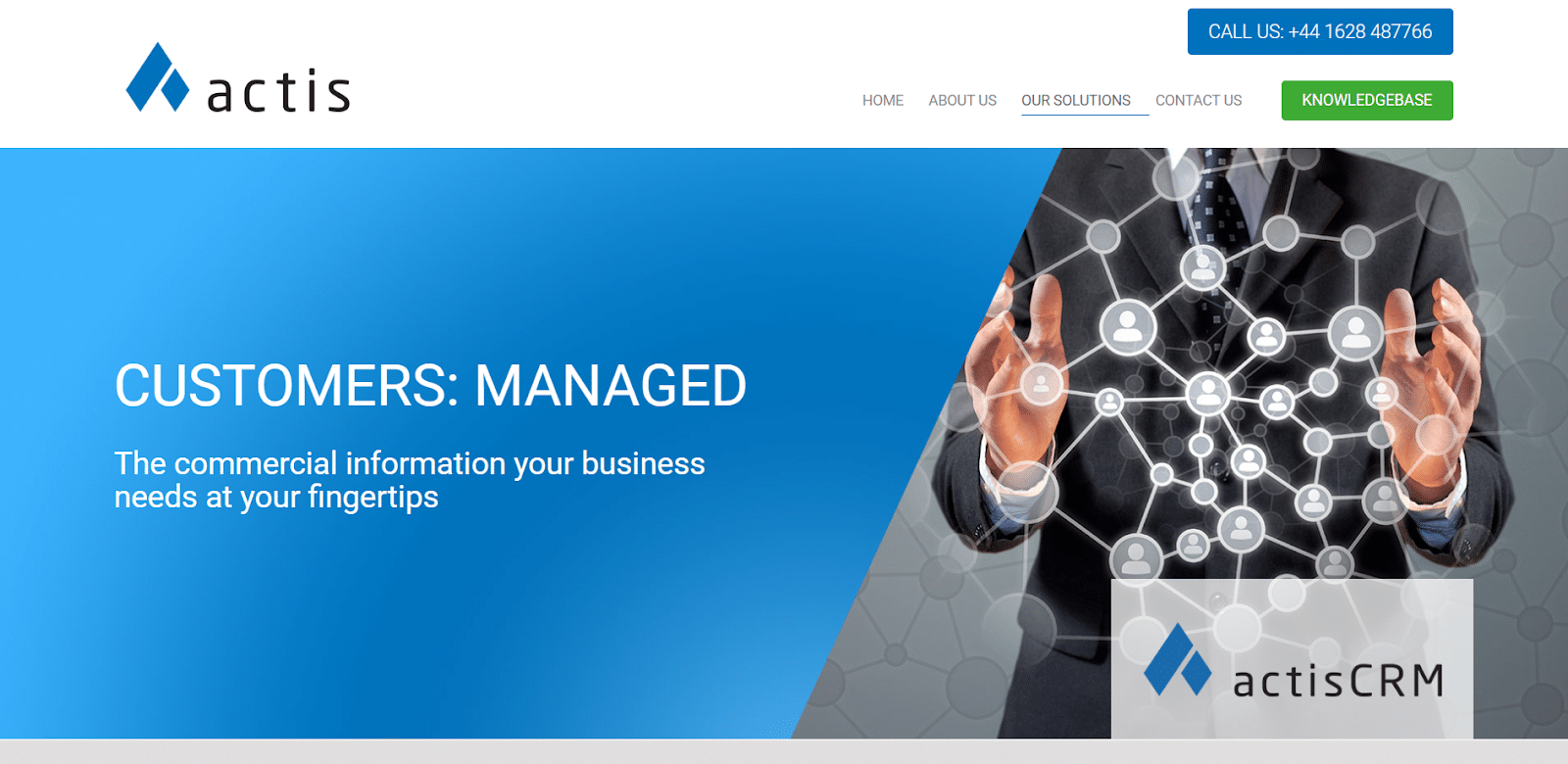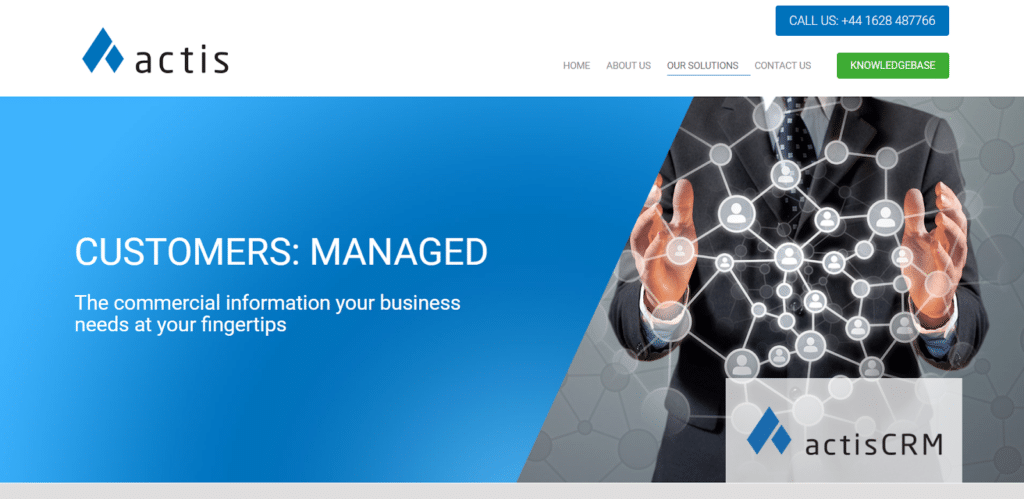 ActisCRM is the market's premier CRM for pharmaceuticals, trusted by over 25 companies, from contract teams to expansive multi-discipline European units. It goes beyond contact storage, offering real-time commercial insights and a tailor-fit experience designed exclusively for pharmaceutical sales.
Key Features and Benefits
Dynamic database: A reservoir of real-time commercial data.
Customizable interface: Adaptable to suit distinct business needs.
Versatile accessibility: Seamless interaction across desktop and mobile.
Tailored extensions: Offers add-ons and development options catered to a company's unique demands.
Drawbacks
Overwhelming features: Complex for simpler operations.
Updates and maintenance: Frequent updates might disrupt the user experience.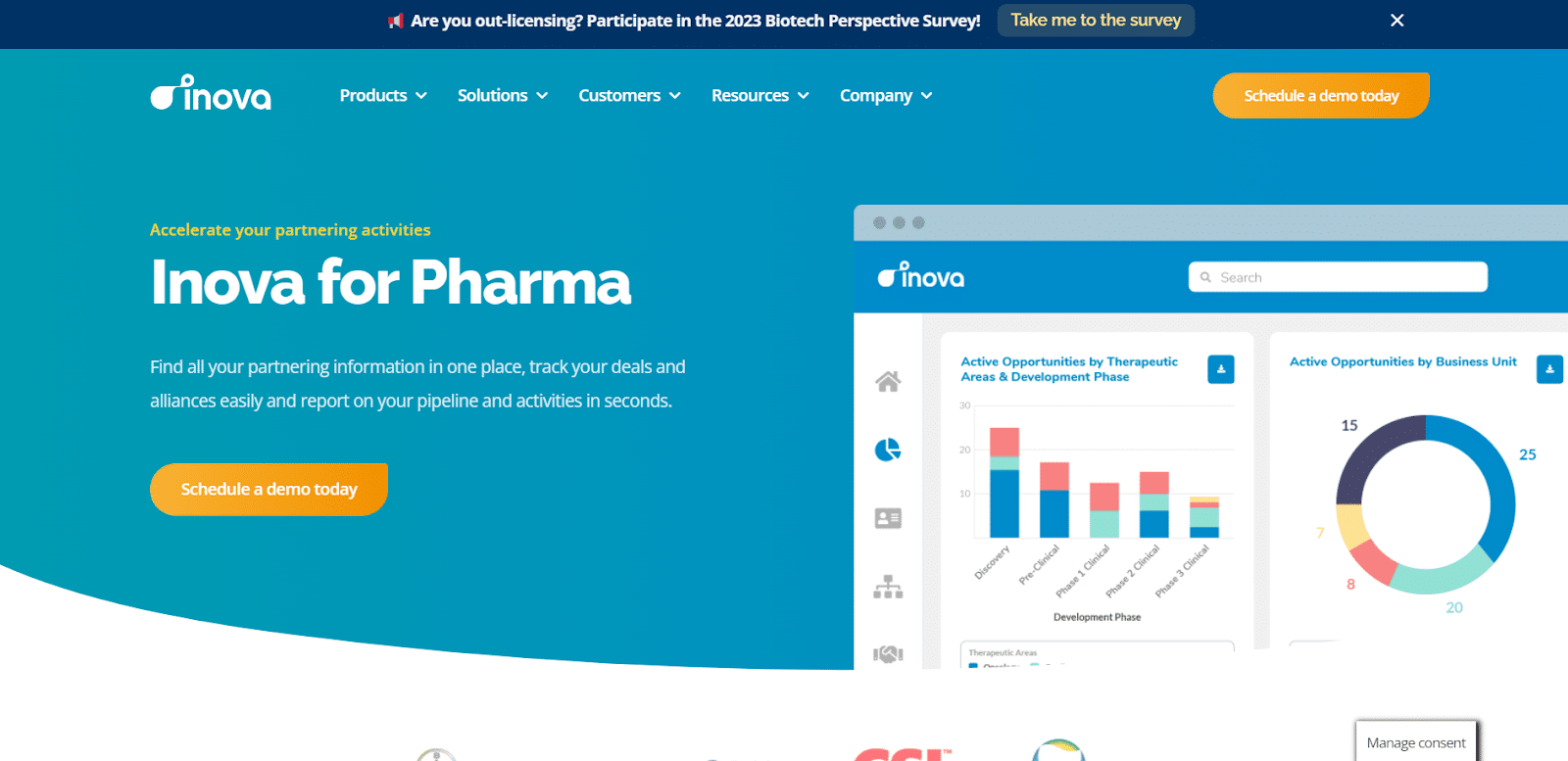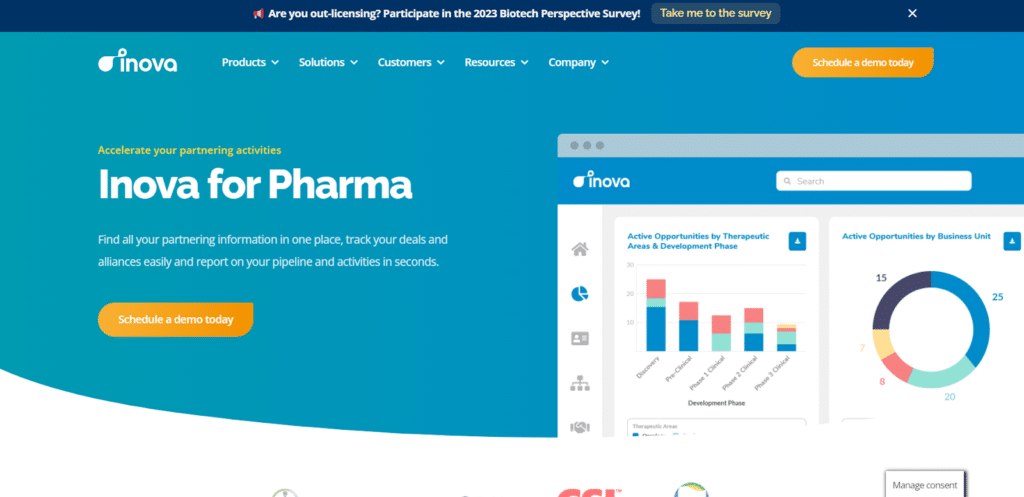 Inova offers a centralized solution for managing all partnership data. It simplifies deal tracking and efficiently oversees alliances. This robust solution streamlines reporting on pipelines and activities, enabling quick insights and informed decision-making in seconds.
Key Features and Benefits
Unified data repository: The platform centralizes all your partnering activities, coupled with intelligence from other sources.
Efficient deal tracking: Visibility into partnering efforts and pipeline streamlines all deal stages.
Rapid reporting: Instantly generate reports.
Alliance management: Foster and oversee partnerships with ease.
Drawbacks
Updates and scalability: It might require frequent updates.
Dependency risk: Poses a risk if there are solution downtimes or unforeseen technical issues.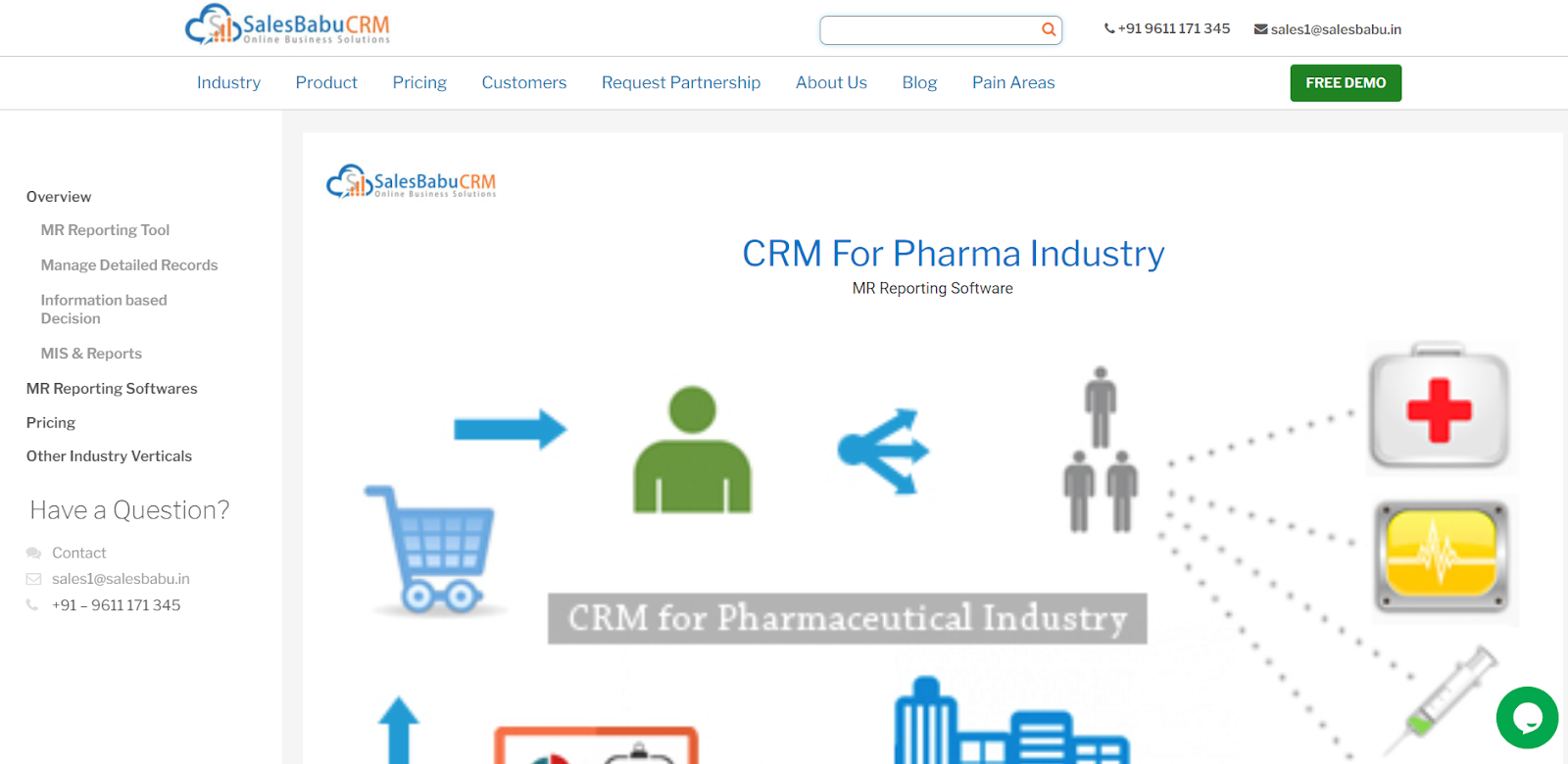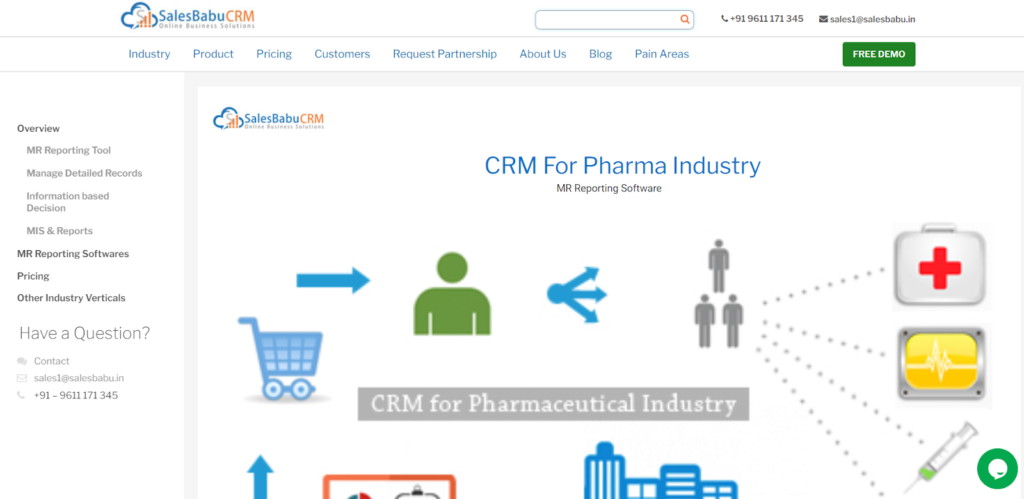 SalesBabu Online Pharma CRM is a cloud-based solution encompassing CRM, Salesforce Automation, and Marketing Automation. It streamlines customer-related processes with the pharmaceutical sector's unique needs in mind. It fosters collaboration across departments while offering insightful analytical reports.
Key Features and Benefits
Salesforce automation: Reduce manual tasks and boost efficiency.
Marketing automation: Improve marketing ROI.
Collaboration solutions: Smoother operations for commercial teams.
Insightful MIS reports: Analytical solutions to refine CRM strategy.
Drawbacks
Limited offline capabilities: Limited functionality when not connected to the internet.
User interface: Less intuitive interface.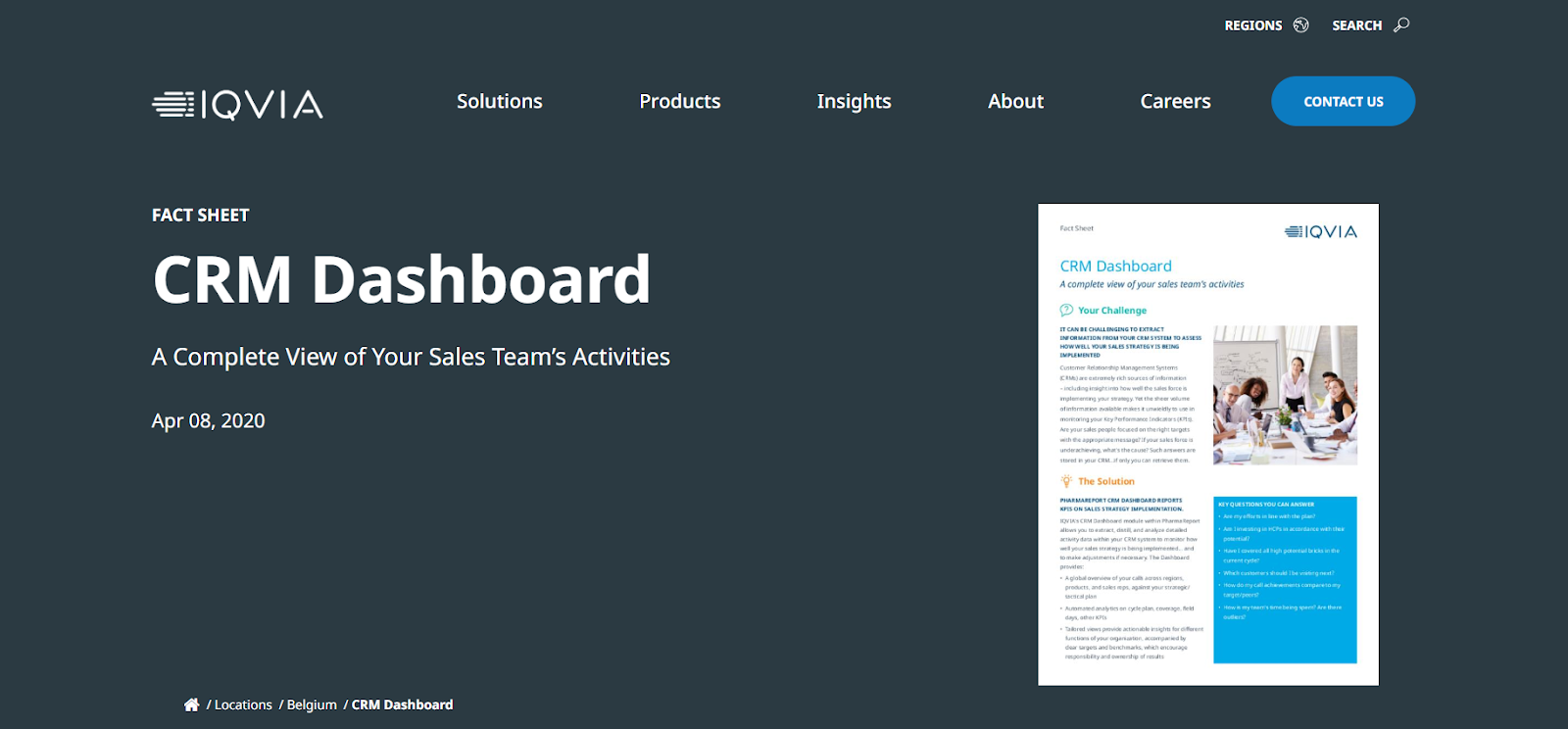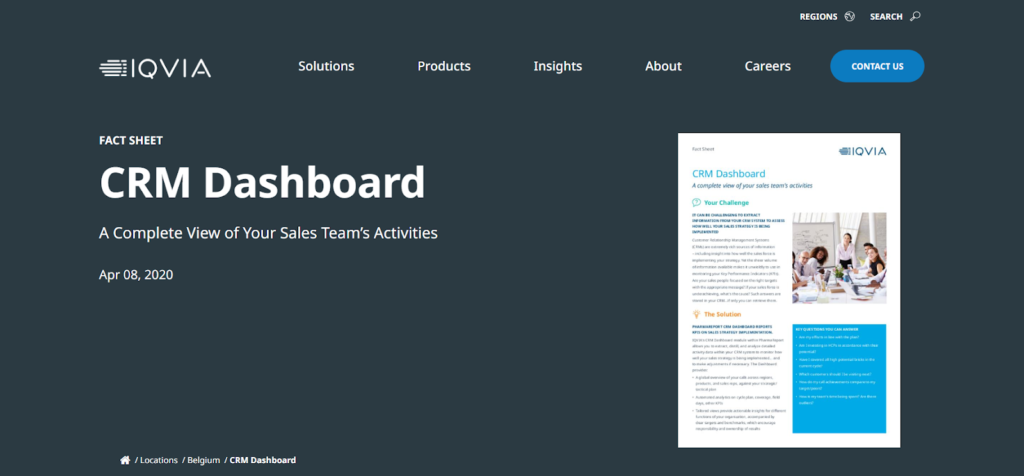 IQVIA is a global provider of advanced analytics, technology solutions, and contract research services to the Life Sciences industry. Its Pharma CRM solution aids in streamlining drug development and commercialization. It enables healthcare companies to access data, insights, and advanced technologies to optimize operational efficiency.
Key Features and Benefits
Enhanced Customer Engagement: Offers tools for better customer targeting and segmentation.
Regulatory Compliance: Assists in adhering to industry-specific regulations and standards.
Optimized Sales Performance: Utilizes advanced analytics to enhance sales forecasts.
Real-time Analytics: Instant access to crucial metrics for timely decision-making.
Drawbacks
Cost: As a specialized solution, it may be on the pricier side for smaller enterprises.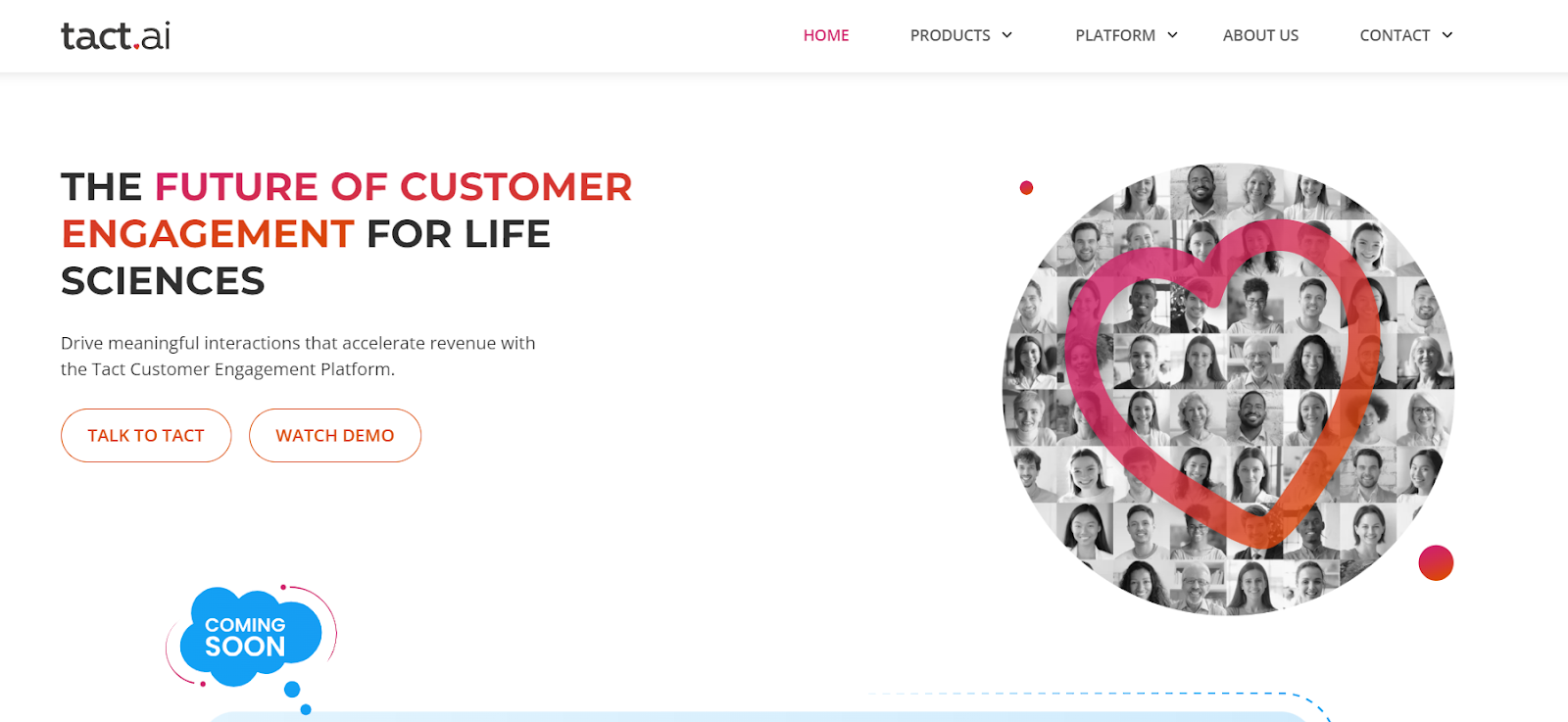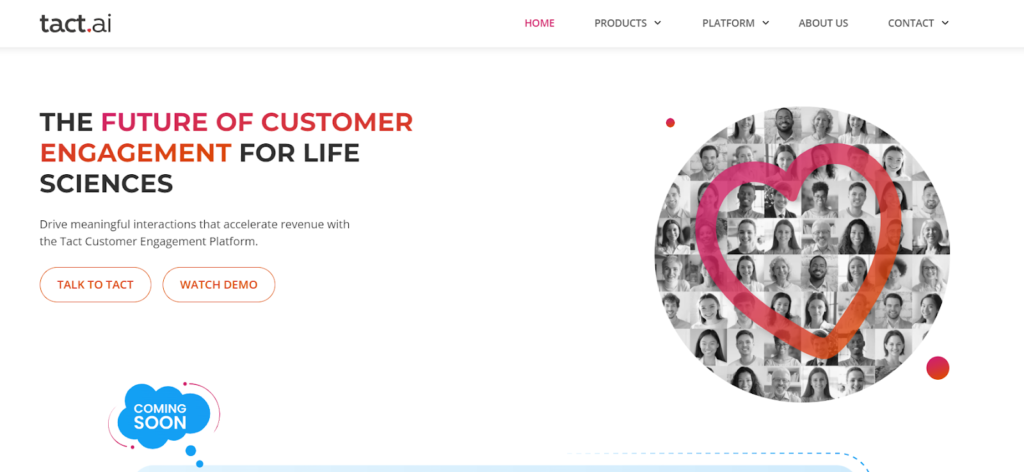 With its AI-driven interface, Tact is a prominent CRM solution designed to revolutionize sales operations. Boasting a user-friendly, intuitive solution, Tact streamlines customer interactions, automates administrative tasks, and enhances decision-making through insightful analytics.
Key Features and Benefits
AI-Driven Insights: Leverages artificial intelligence to provide actionable sales recommendations.
Cross-Device Integration: Ensures consistent user experience across various digital platforms and devices.
Offline Functionality: Operate even without an active internet connection.
Automated Task Management: Streamlines administrative duties.
Drawbacks
Update Adjustments: The necessity of consistent software updates may lead to intermittent retraining and readjustment periods for users.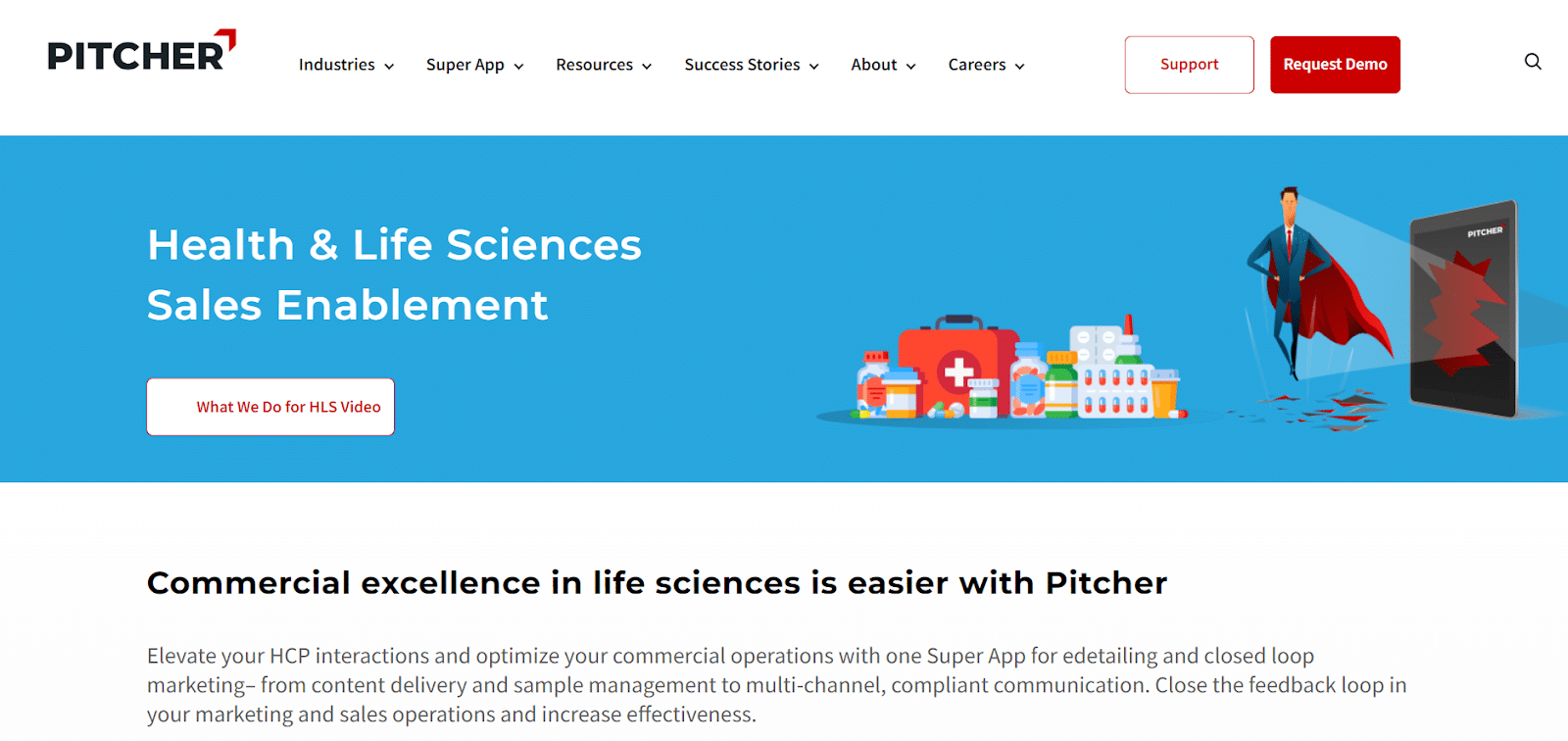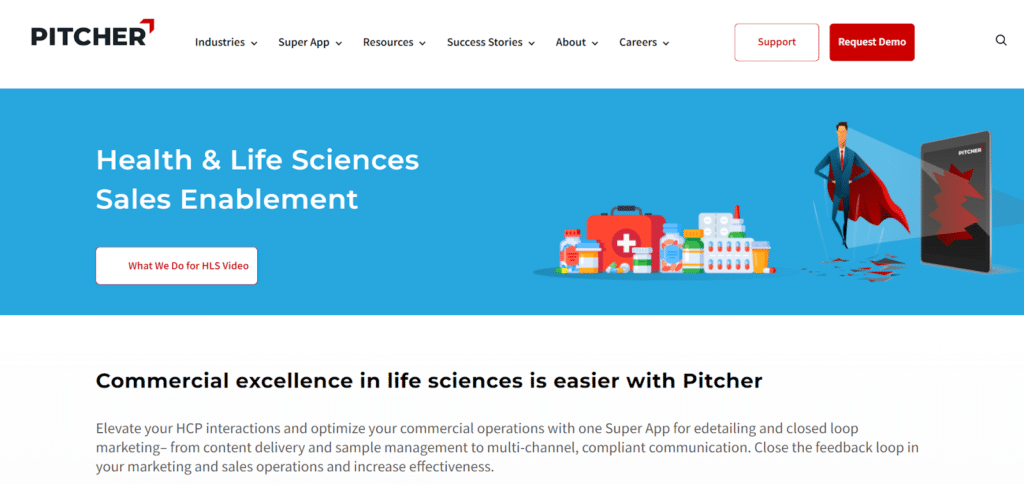 Pitcher is a versatile CRM solution for seamless field sales and marketing operations. It is known for its real-time analytics, seamless content management, and integrated communication tools. Its user-friendly interface offers real-time analytics, dynamic content management, and integrated communication tools.
Key Features and Benefits
Content Management: Allows easy customization of marketing content to resonate with specific customer needs.
Engagement Tracking: Monitors customer interactions, helping reps to refine their approach based on feedback.
Integrated Communication: Facilitates secure messaging and team collaboration, improving coordination and response times.
Training Modules: Incorporates eLearning tools for continuous skills enhancement.
Drawbacks
Customization Limitations: Complex requirements might need to be addressed out of the box.
Performance Issues: Users might experience occasional slowdowns or performance hitches.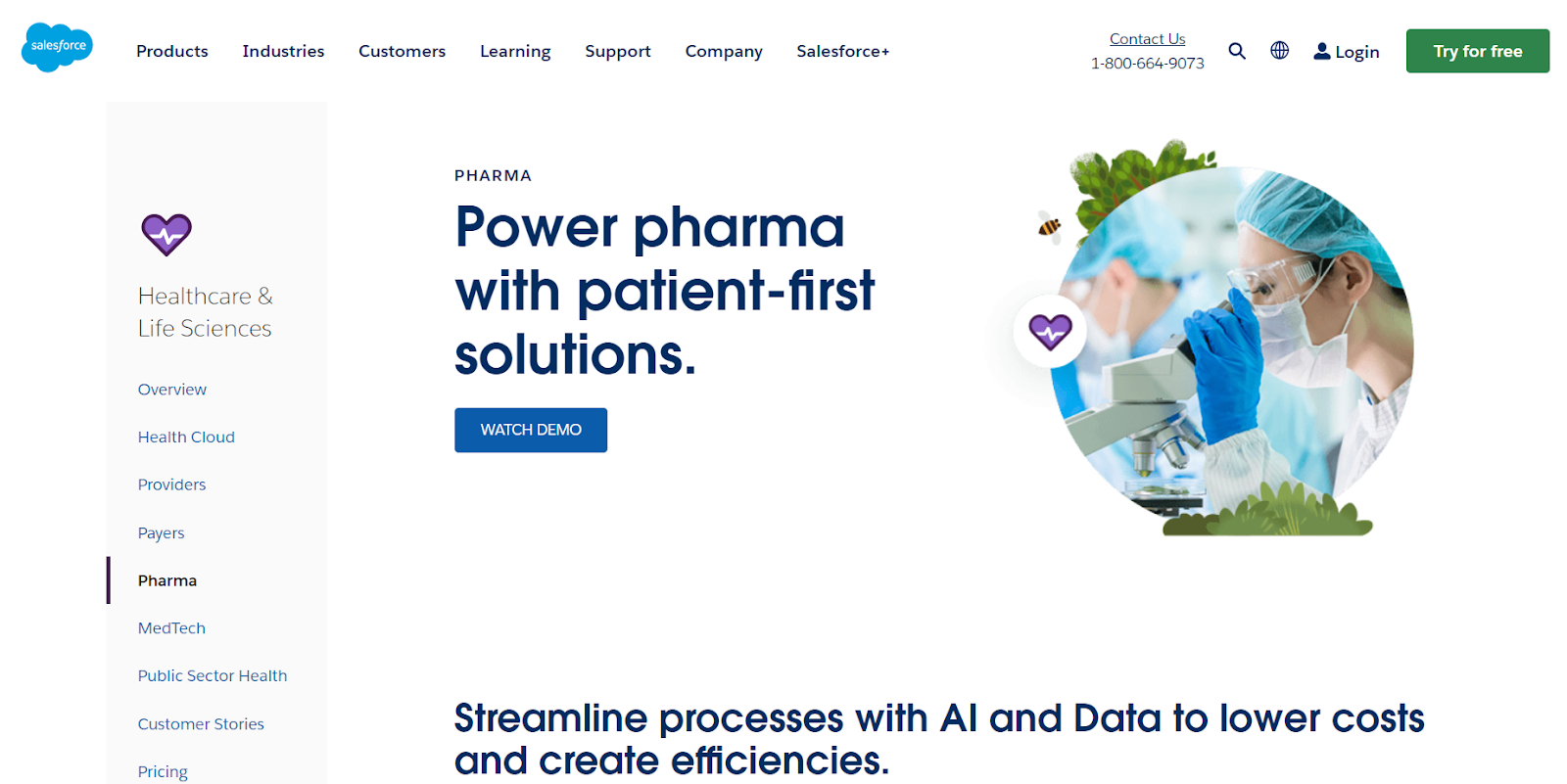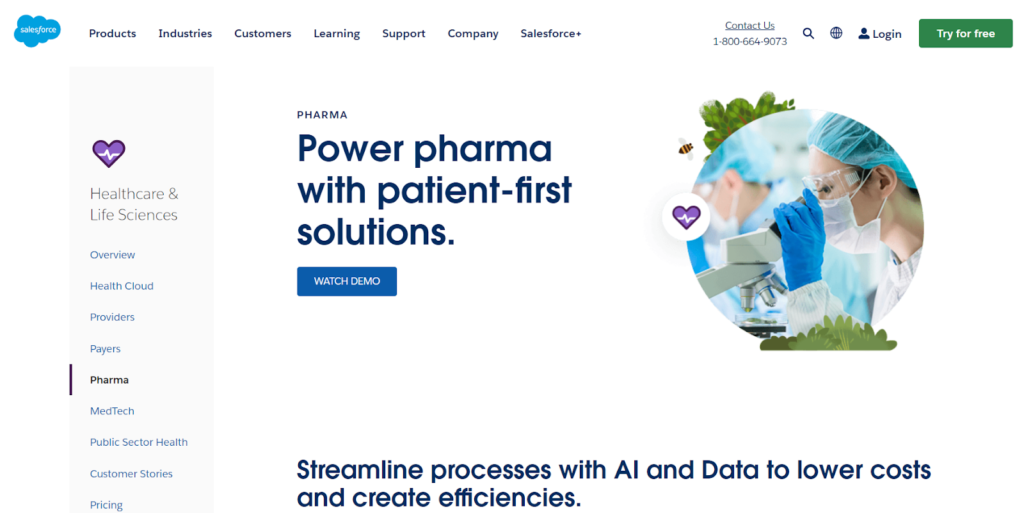 Salesforce provides a unified solution for integrating vast datasets for pharmaceutical companies. The solution streamlines communication, manages regulatory compliance, and offers in-depth analytics to optimize outreach and education efforts.
Key Features and Benefits
Cloud-Based: Enables real-time data access and updating from any device.
360-Degree Patient View: Integrates patient data, medical history, and interactions for personalized outreach.
Collaborative Environment: Facilitates communication between sales, marketing, and healthcare professionals.
Customizable: Allows for bespoke solutions to meet unique organizational needs.
Drawbacks
Vendor Lock-in: Migrating to a different CRM can be challenging. In the long run, this could make users feel 'trapped' with the product.
Customization Overload: While being customizable is an advantage, it can sometimes lead to overly complex configurations.
How to Choose Your Pharma CRM?
Selecting the best Pharma CRM software is a strategic move that can redefine your company's trajectory. Choosing the best Pharma CRM software involves:
Understanding your specific needs.
Prioritizing user-friendliness.
Ensuring industry-specific features.
Checking integration capabilities.
Considering scalability.
Customer support.
Compliance features.
The right CRM for pharmaceuticals will set the pace for your company's future growth and adaptability.
For a comprehensive understanding, we recommend our detailed article, "What to Look for in a Pharma CRM?"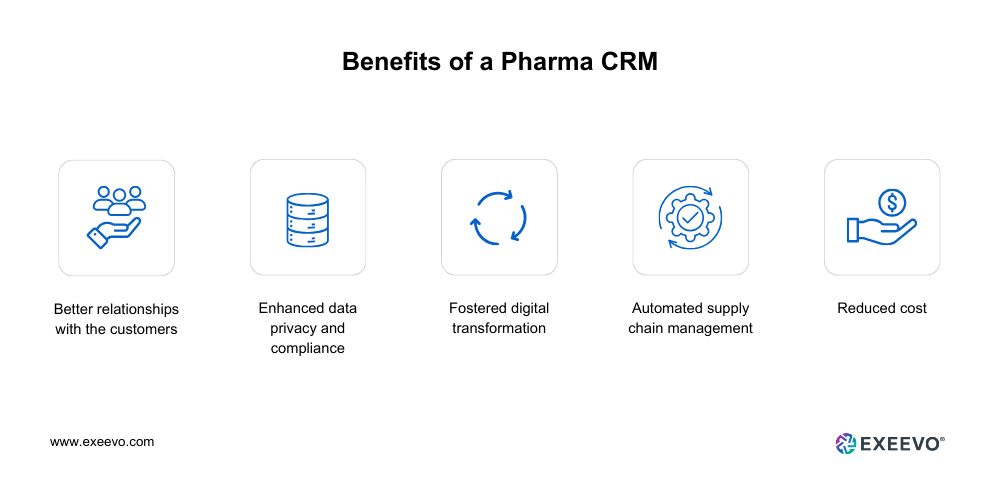 Exploring Next Steps with Exeevo
A Pharma CRM software can streamline operations and optimize customer relationship management while upholding industry compliance.
Exeevo has distinguished itself in this domain, as demonstrated by its pivotal role in aiding Sanofi China. As Sanofi China navigated its expansion, it encountered challenges typical of rapid growth. Exeevo's Omnipresence CRM emerged as the solution to address those growing pains. This success story reflects Exeevo's unparalleled capability in tailoring solutions to unique pharma needs.
Explore more about Exeevo CRM and take the first step towards optimization.